Philippines Learning Tour

Philippines Learning Tour

Peace and Reconciliation Field Experience

January 12-22, 2023
$2,250/person
Flights Toronto - Mindanao Excluded

Visit the Mindanao region of the Philipipines. You will experience firsthand how to walk and talk the way of peace. Through daily times of worship, reflection and conversation we will gain a greater appreciation for God's wonderful work of reconciliation, hope and healing in the Philippines. In addition, participants are challenged to see and share how God is moving in their own lives.
The Details:
Participants will need to be able to walk some distances and handle their own luggage.
How much will it cost? - Mennonite Church Canada is offering this learning experience to individuals on a double occupancy basis for $2,250 CAD per person (Does not include international flights or visas). Included are: lodging; meals: breakfast, lunch and dinner daily; in country transportation including flight from Manila to Davao, return.
What's not included? - Participants will need to purchase international flights (Toronto to Manila, return – Mennonite Church Canada is available to assist for those who would like to book their tickets through our travel agent), travel insurance before leaving Canada and be prepared to pay incidental costs such as in transit meals and beverages. Being fully vaccinated for Covid-19 is required for international travel. Please check with your doctor to see if you require any other vaccinations.

Sign up today by emailing Norm Dyck.
The tour is limited to ten (10) registered participants.
At registration we require a $500 deposit per person.
Your deposit reserves your seat.
Tour Guides

Dann and Joji Pantoja
Philippines


Norm Dyck
Ontario, Canada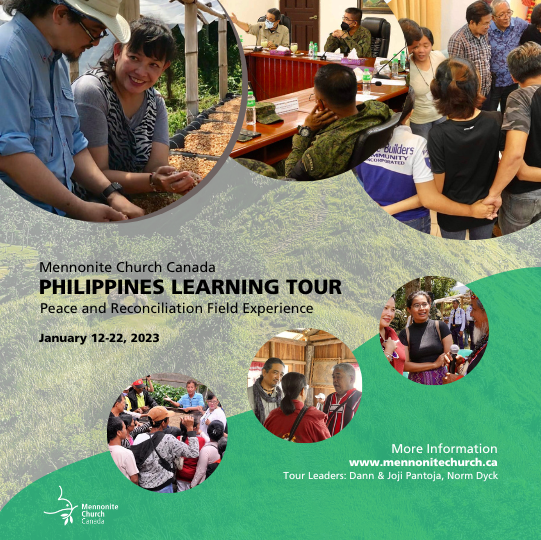 Dann and Joji Pantoja

Dann & Joji are engaged in active peace ministries that involve conversations with Muslims, Indigenous People Groups, and Christians.
PeaceBuilders Community Inc. (PBCI), founded by Lakan Sumulong and Lakambini Mapayapa (Dann and Joji Pantoja), provides peace-and-justice training for Christian church leaders, Indigenous leaders and civil society organizations. Their vision is that by the year 2030 each of the 81 provinces will have an established Peace and Reconciliation Community.
As part of PBCI's sustainable development initiative, Joji works as CEO of Coffee for Peace, a social enterprise that works directly with local coffee farmers to ensure a fair return for their product and responsible environmental practices.
Norm Dyck

Norm serves as Mission Minister for Mennonite Church Eastern Canada and is part of the Mennonite Church Canada International Witness Team. He is an International Witness ​Liaison Worker. Norm also works with newcomer congregations and church plants in MCEC, as well as encourages congregational missional activities and disciple-making initiatives. He fosters intercultural connections across MCEC.
Itinerary:
Saturday, January 14, 2023 - Arrival in Mindanao

Sunday, January 15, 2023 - Trip to Northern Mindanao Region
Monday, January 16, 2023 - Fellowship with the Talaandig Community
Tuesday, January 17, 2023 - Fellowship with Davao Based Partners
Wednesday, January 18, 2023 - Trip to South Central Mindanao Region
Thursday, January 19, 2023 - Visit to Malipayon Peace Hub
Friday, January 20, 2023 - Visit to Bagobo Tagabawa - Mt. Apo
Saturday, January 21, 2023 - Rest and Recreation
Sunday, January 22, 2023 - End of Learning Tour
Contact:
Norm Dick
Mission Minister, MCEC
226-476-2500 ext. 707