June 22nd, 2020

"Listen to the stories of the oppressed": stories from centres of conflict around the globe

by Katie Doke Sawatzky

Mennonite Church Canada writer Katie Doke Sawatzky spoke with Christian Peacemaker Teams' program support coordinators this spring about their work and why the church needs to more actively support non-violent peacemaking.

When Lukasz Firla and his fellow team members finally arrived at the house of the family they were searching for it was around lunchtime. They hadn't planned on inviting themselves for a meal, but the family welcomed them. Afterwards, the family invited the team to accompany them to the gravesite to observe a period of mourning for the loss of their son, Himdat Osman Darwish, a young man who had been killed by a Turkish bomb exactly one year ago while driving his car in Iraqi Kurdistan.

According to Firla, the region is bombed, on average, once per day[1]. The mountaineous area of Iraqi Kurdistan that borders Turkey and Iran is home to tens of thousands of civilians, many of whom are farmers and shepherds. Turkish airstrikes and drones are justified as a defense against Kurdish armed groups (labelled terrorists by Turkey) in the region who fight for Kurdish rights. The bombings regularly kill, injure and displace civilians.

CPT has been present in Iraqi Kurdistan since 2006. The team documents and reports ongoing attacks on civilians, partners with local and international organizations advocating for human rights, accompanies people vulnerable to violence and offers non-violence training.

"People in those villages feel really abandoned by their government, the Kurdistan government, by our governments. They feel abandoned by the world, actually," says Firla, who has been program support coordinator for the Iraqi Kurdistan team since 2016 and a team member since 2011.

Through establishing relationships with families and being a constant presence in the area, the Iraqi Kurdistan team connects affected families with one another for support. The team comes alongside the families' as they advocate for an end to the bombings.

"I find it beautiful the ability to connect people from very different places on the same goal in one team, and the ability to build a community….The families coming together and be(ing) able to support each other. It's not one voice exactly, but it's a common voice," says Firla.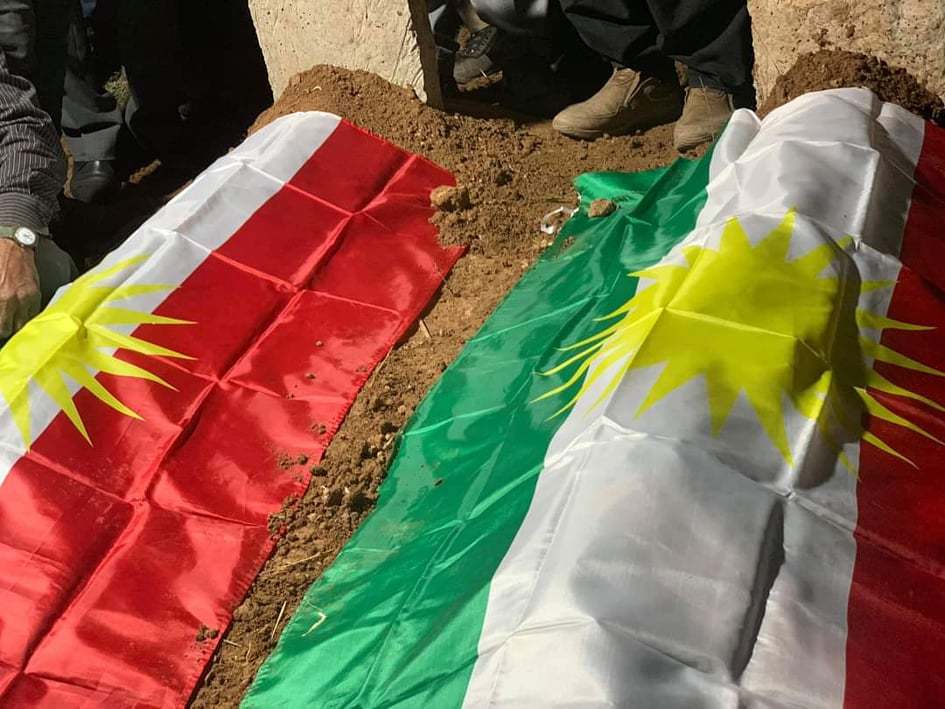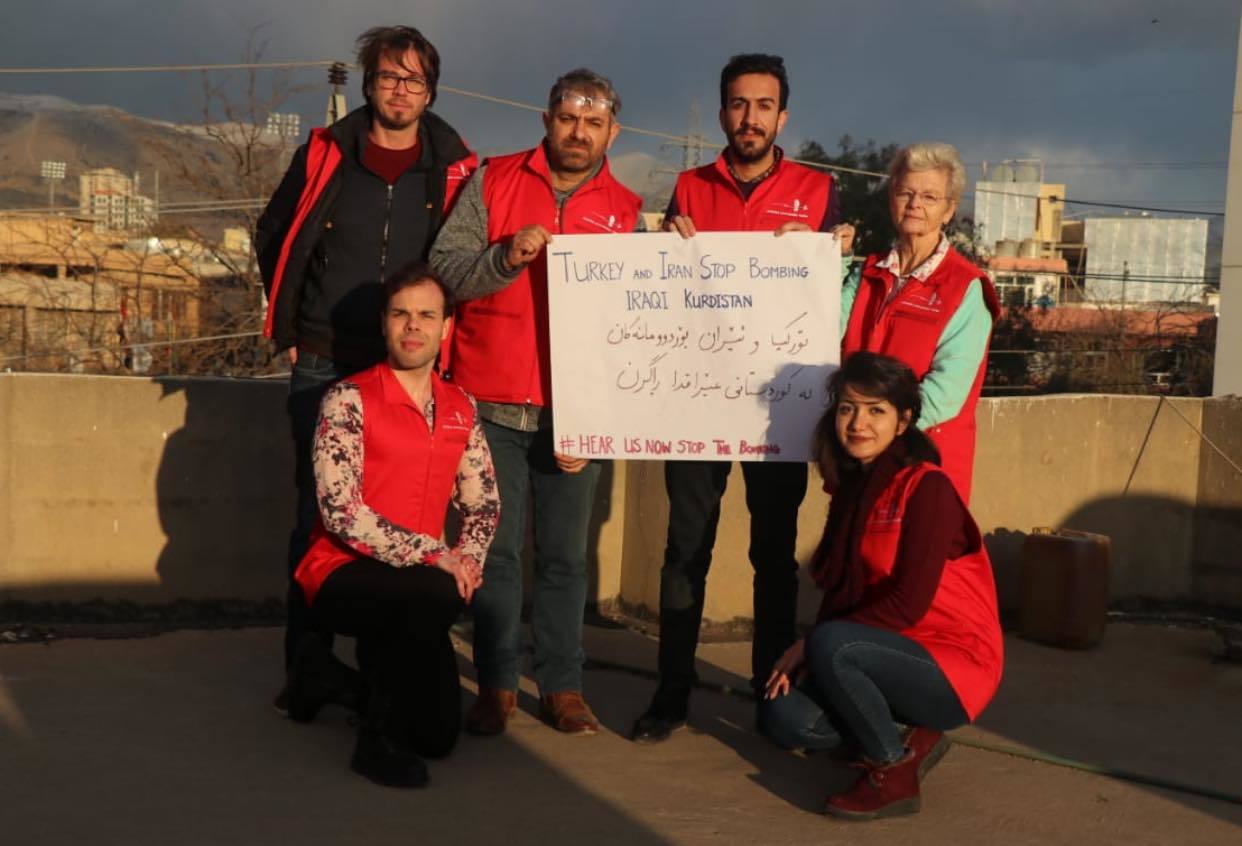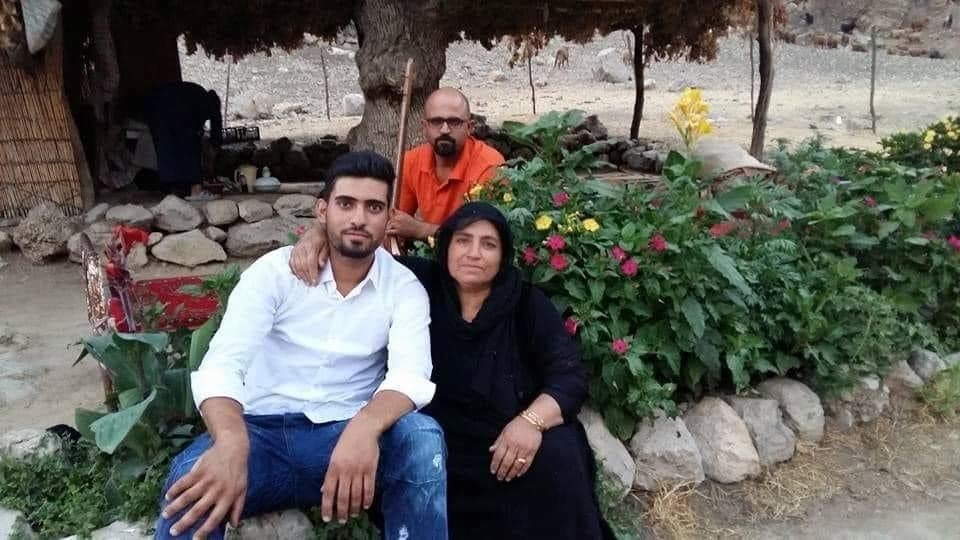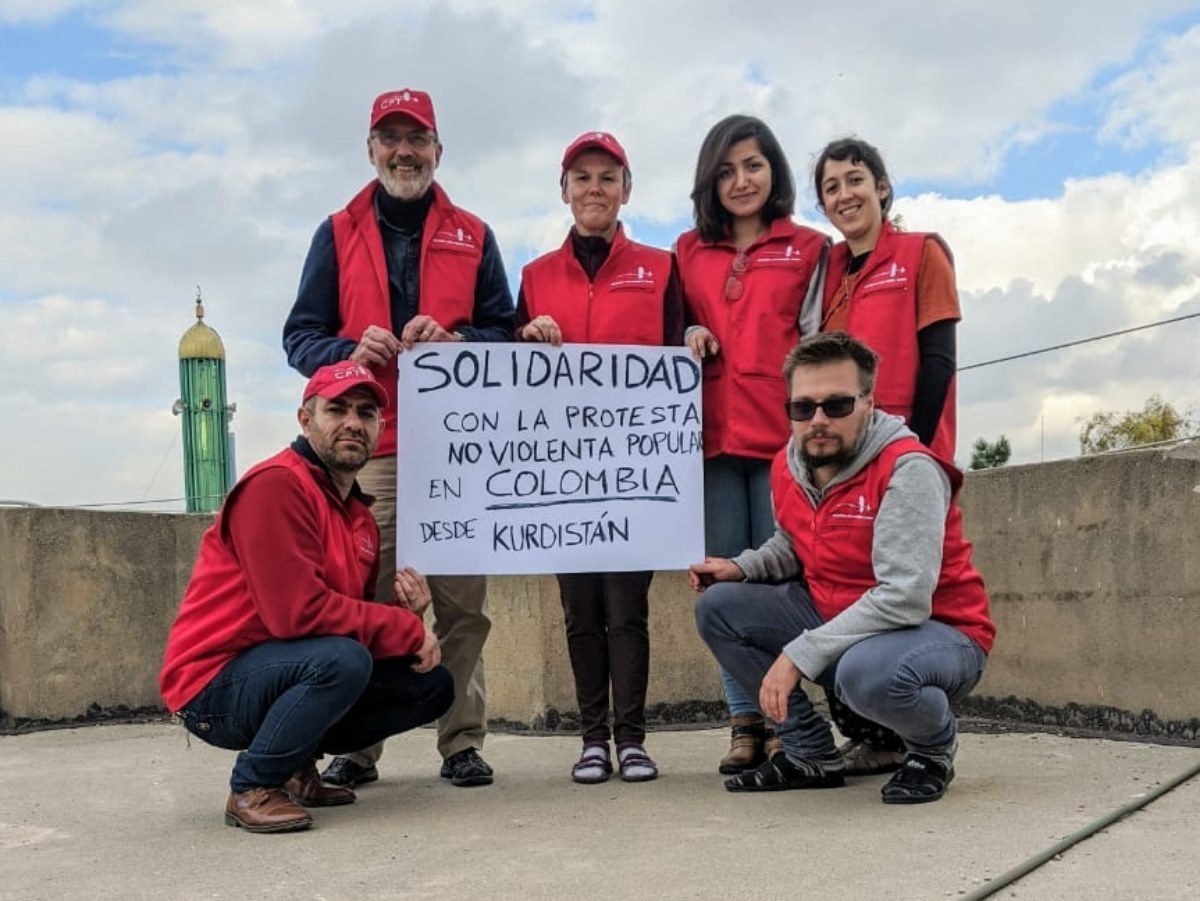 Captions: 1. Jalal Nuradin and his son, Ahmed, were killed in a Turkish bombardment on May 30 in the village of Hetut, where they lived and farmed. A local resident told CPT that Turkey began bombing inside of the village, killing the 2 civilians and severely injuring another. The farming communities of Iraqi Kurdistan continue to be terrorized by Turkish cross-border bombing while also struggling with the realities imposed by the coronavirus pandemic. "We call on the governments to Turkey and Iran to stop these attacks." Source: CPT 2. In February, CPT Iraqi Kurdistan launched another stage of its campaign, "Hear Us Now: Stop the Bombing!" "We invite you to join our campaign and take action by writing a sign that demands an end to Turkish and Iranian bombings in Iraqi Kurdistan. Please post it to your social media with the hashtag: #HearUsNowStopTheBombing." 3. At the end of every Spring Sherko's family relocates to a land on the Asterokan mountain to graze their livestock during the Summer and Autumn months.
On April 14 Turkish warplanes bombed Asterokan mountain, including Sherko's family's farm. Sherko told CPT: "Only civilians and innocent people are being impacted by these bombardments."4. CPT Iraqi Kurdistan supports the non-violent protesters of Colombia in December 2019. Source: CPT.
The "Hear Us Now: Stop the Bombing! campaign is the team's latest example of advocacy work. Family members of those killed by Turkish and Iranian bombings launched the campaign August 2019. They call for six actions, the first of which is an end to the bombings. Others include compensation for affected families and dialogue with government officials.
"(Our partners say) to CPT, you make a bridge between us and the world and that way you connect us, so we don't feel alone, now," says Firla. "People listen to us, listen to our voices. They know what's going on. There are people around the world who take action to support us and take action against those bombings."
CPT's Mennonite roots
The Mennonite Church has a history of answering the call of transformative peacemaking. Ron Sider's strong words[2] to the Mennonite World Conference in 1984 during the Cold War, in which he invoked the need for the Church to more intentionally engage in peacemaking in areas of international conflict, sparked commitments among Mennonite churches.
In 1985 the concept of Christian Peacemaker Teams was approved by the Council of Moderators and Secretaries of the Mennonite, General Conference Mennonite, Mennonite Brethren and Brethren in Christ churches. At the 1988 Conference of Mennonites in Canada in Winkler, Man., delegates approved a resolution recommending that each of its congregations form a peacemaking team. The CPT model was seen as one that would work locally, as well as internationally.
"CPT's mission is 'Building partnerships to transform violence and oppression,'" says Steve Heinrichs, Indigenous-Settler Relations program director for Mennonite Church Canada. Heinrichs served as a reservist with the Palestine CPT team between 2007—2011.
"To enter into suffering places and come alongside peoples who are transforming structures of domination in the pursuit of peace, to me, that's the heart of the gospel and the costly way of Christ," says Heinrichs. "CPT not only embodies and reminds the church of this call, but offers us a way to enter in and practice it, too."
Today Mennonite Church Canada is a sponsor of Christian Peacemaker Teams and is represented on the CPT Steering Committee by Heinrichs, who sits as vice-chair.
Currently CPT has 13 staff as part of its administrative team, four program support coordinators, four field teams (made up of 170 stipended and volunteer workers) and one psychological care coordinator. This is a far cry from the 100 volunteers originally envisioned in the 80s; yet the organization's presence in countries around the world given it well-respected international status.
Peace through presence: U.S./Mexico Borderlands
Much of CPT's work consists of being present within communities experiencing conflict.
Jack and Linda Knox, members of Shalom Mennonite Fellowship in Tucson, Ariz., walk with migrants three times a day as they move from their shelter to a migrant resource centre three blocks away in Agua Prieta, Sonora, Mexico, near the U.S.-Mexico border. The Knoxes are assigned project coordinators for CPT's U.S./Mexico Borderlands team.
Migrants seeking asylum are at risk from extortion by the drug cartel, which controls who is able to cross the border, according to Jack Knox. CPT's presence alongside local organizations, like the one running the shelter, ensures migrants access the centre for basic needs like the washroom, showers and lunch.
The volunteers faced threats when the cartel thought the shelter was receiving payment form migrants, says Knox. To ease the tension, the priest of the church where the shelter is located wore his vestments while accompanying migrants, to signal to the community that their work is faith-based and not for monetary gain.
"To me being a part of that work, of saying we're standing up for justice is really important," says Linda Knox. "Our whole CPT thing is 'Waging peace is just as dangerous as waging war." And so that's what we felt that we were doing."
There are currently seven families in the shelter, but with the border remaining closed, people are exploring their options elsewhere, in places like Mexico City.
'To enter into suffering places and come alongside peoples who are transforming structures of domination in the pursuit of peace, to me, that's the heart of the gospel and the costly way of Christ.CPT not only embodies and reminds the church of this call, but offers us a way to enter in and practice it, too.' - Steve Heinrichs
Colombia
Carolina Gouveia Santana, the CPT Colombia team's program support coordinator, says her team's presence reduces violent intimidation tactics—like shooting from cars—that rural villagers have faced for decades from armed groups.
CPT has been present in Colombia since 2001, when the Colombian Mennonite Church invited the organization to Barrancabermeja, in the Magdalena Medio region. Conflict there is fueled by drug trafficking and land-grabbing by large businesses.
Santana describes how the community of Guayabo constantly faces eviction from their land because of business and government interests. In 2017, CPT witnessed the women of the community protest their removal by locking arms to form a chain, which the police did not breach. In 2018 the community was evicted but has since returned. Their determined resistance and the work of local organizations whom CPT partners with is what Santana finds rewarding about her team's work.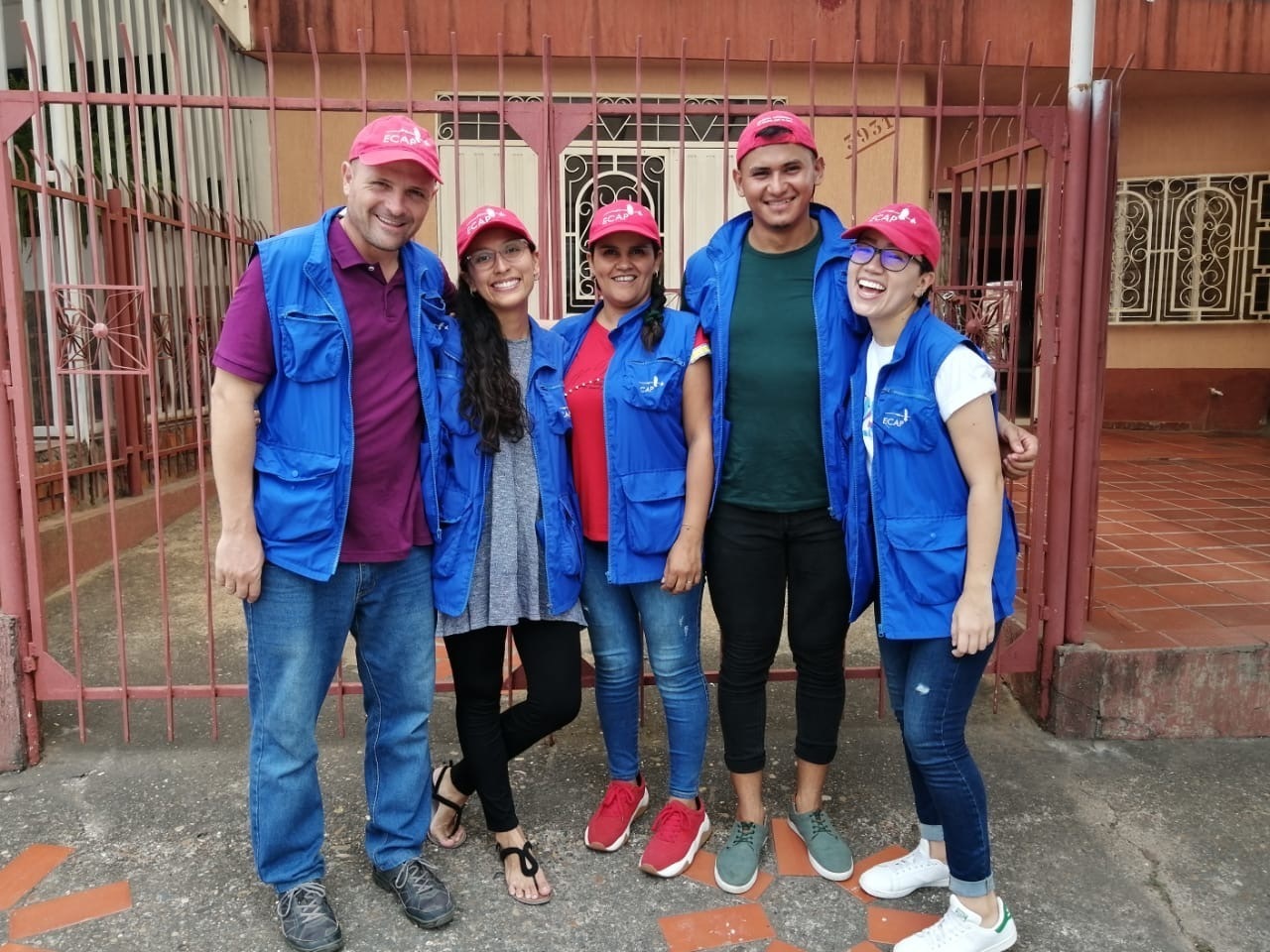 CPT Colombia team members. Source: CPT.
"We don't work by ourselves," says Santana. "It's all consulting the community and asking what they need, what they want, getting ideas from them, asking our local partners to advise us. They are from the region, they know the context."
Palestine
Mona el-Zuhairi is the support coordinator for the Palestine team, which is located in Hebron. The local mayor invited CPT to the city in 1995, a year after 29 Palestinians were killed inside the Ibrahimi mosque by an Israeli extremist. Due to riots that followed the killings and over the following years, Israel imposed curfews and checkpoints to restrict the movement of Palestinians.
Forty thousand Palestinians live in H2, a section of the city under Israeli military control. Conflicts in the area are around settlement expansion, military brutality, human-rights violations and the restriction of Palestinian movement, says el-Zuhairi.
The Palestine team accompanies children to various checkpoints, which are guarded by Israeli soldiers. Some of children must go through as many as three checkpoints as they walk to school.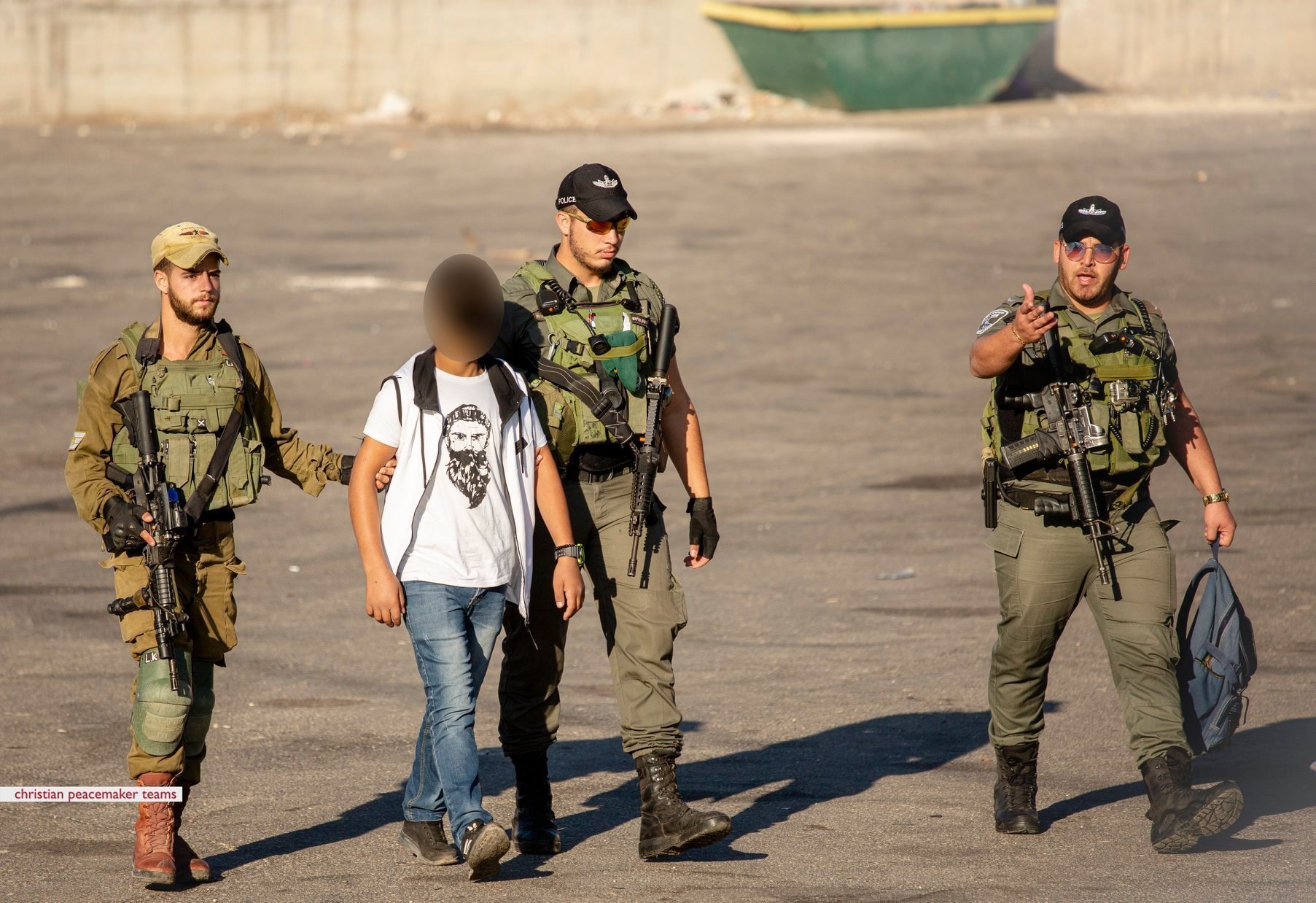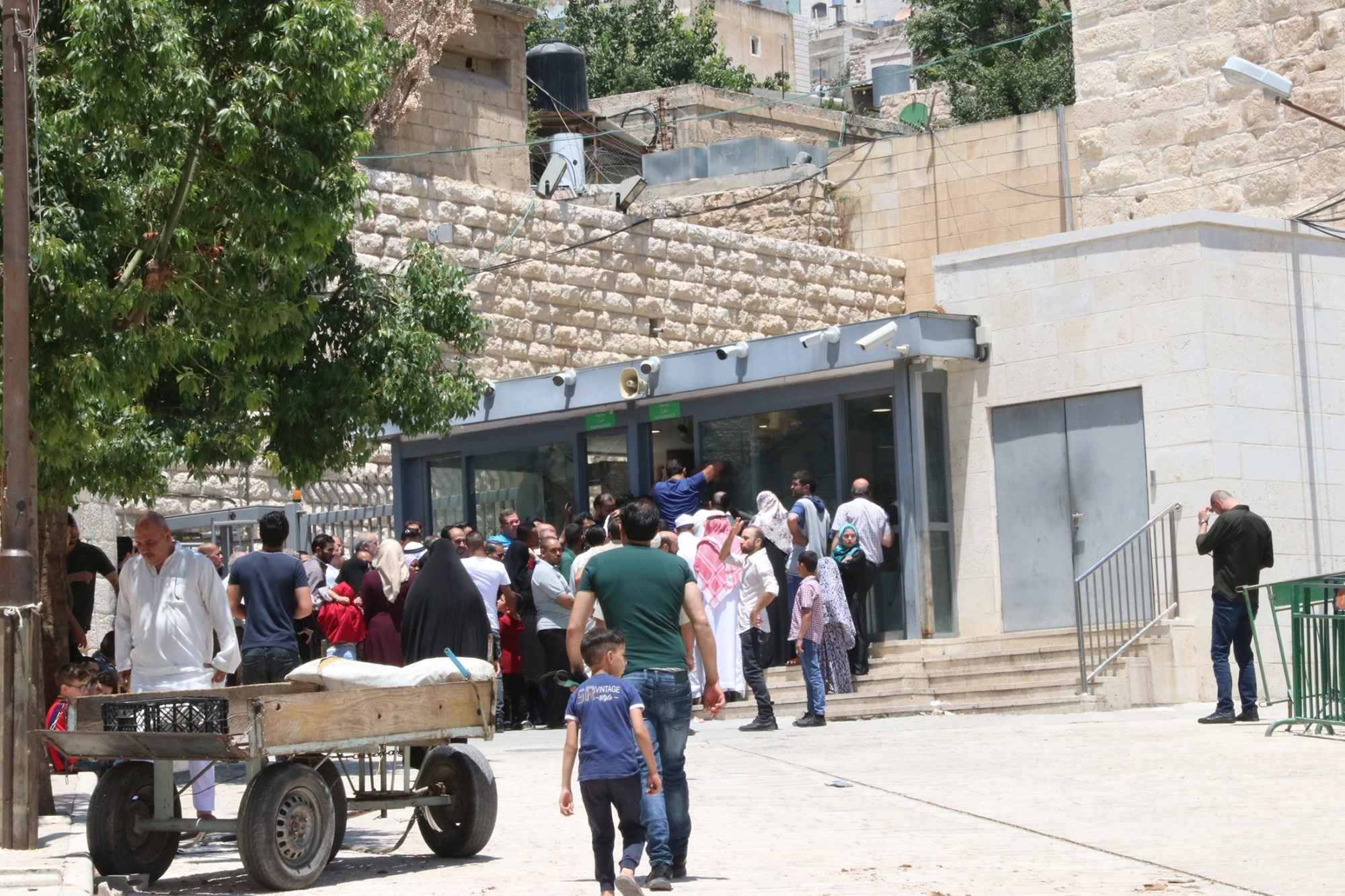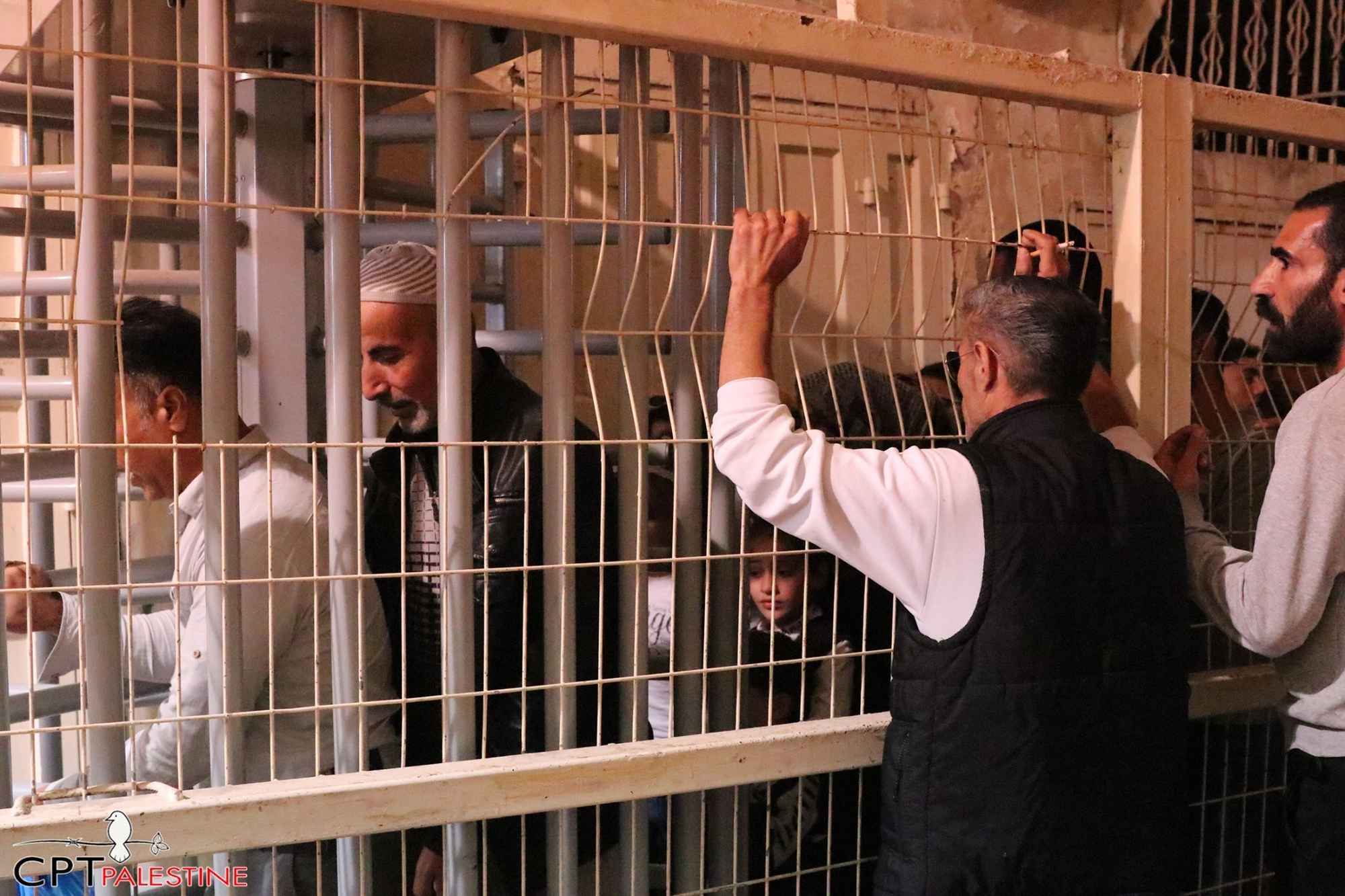 1.On Sept. 30, 2019, occupation soldiers arrested a 16-year-old Palestinian boy as he attempted to pass through Qitoun checkpoint in the Old City of al-Khalil (Hebron) on the way to school in the morning. Palestinian children are often subject to arbitrary arrest and detention. While the State of Israel is a signatory to the Convention on the Rights of the Child, Israeli Occupation Forces regularly take advantage of a loophole in Article 1, which states "... a child means every human being below the age of eighteen years unless under the law applicable to the child, majority is attained earlier." The State of Israel treats all Palestinian children in the occupied territories over the age of twelve as adults within the court system. 2. Palestinian men, women, and children wait in the hot sun for more than 30 minutes for Israeli forces to open the gate at the military checkpoint before they can enter the Ibrahimi Mosque for Friday afternoon prayers. Source: CPT. 3. Palestinians in al-Khalil (Hebron) gathered in November in the Old City to shop and socialize in preparation for celebrating Mawlid an-Nabi, the Prophet Muhammad's Birthday. Even on a day like this where the Old City is vibrant, crowded, and full of life, Palestinians are still subject to arbitrary restriction of movement and are forced to cross inhumane and degrading Israeli checkpoints to pass between parts of the Old City.
"We also offer support during emergencies," says el-Zuhairi. "There are home raids, school raids, random detention and ID checks, and the checkpoints close at certain times."
'I think it's about time to be active. It's not enough to pray anymore.... Listen to the stories from the ground. See the stories and then take the stories with you and talk about them. If you can't, you can donate. If you don't want to donate, try to figure out where you can find information that is helpful, that is eye-opening, that will help you to move on and be part of what should be a global movement at this point to call for human rights.' - Mona el-Zuhairi
el-Zuhairi says the risk of settler violence is high during the seasonal olive harvest, when Palestinian families can only access their lands through a permit process that involves limited office hours. CPT coordinates with local partners in the area to make sure families are not alone during this time.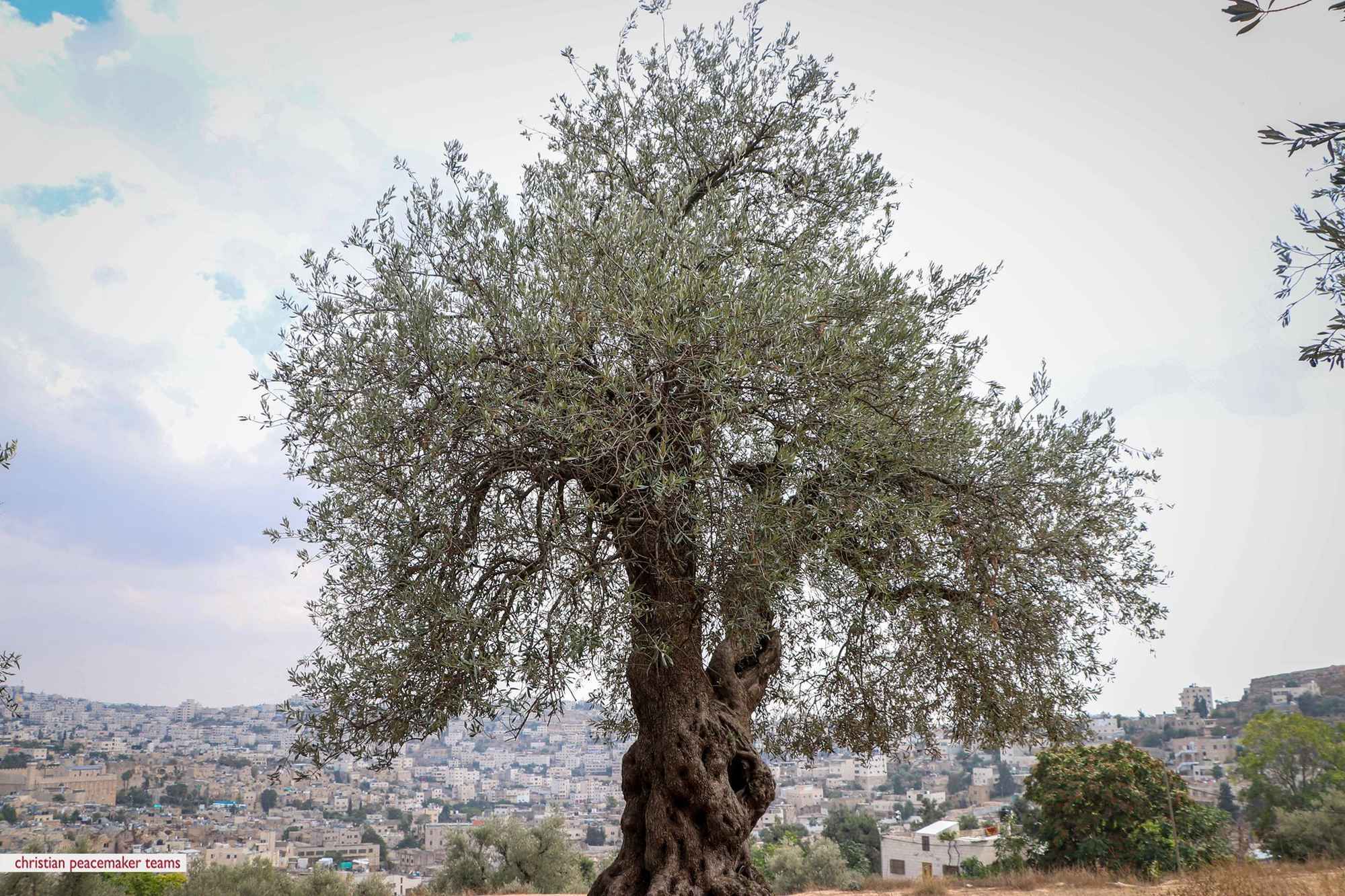 Ancient olive trees overlook the city of al-Khalil (Hebron) from Tel Rumeida. Source: CPT.
"People we connect with say that our presence is important and they can see, even if it's a slight thing that we do that's important, there's someone always there to document the story," she says. "There's someone always there to be with them so they don't feel abandoned."
Standing up to injustice: Lesvos
CPT also strives to raise awareness about the unjust treatment of vulnerable peoples by governments and law enforcement.
The beating of Rodney King, a black man in Los Angeles, by a group of police officers in 1991 was a catalyst for the beginning of the CPT Corps or Peace Reservists—the first group of full-time volunteers ready for active peacemaking—writes Kathleen Kern author of In Harm's Way: A History of Christian Peacemaker Teams.
"The proposal (for the Christian Peacemaker Corps) went on to list case studies in Los Angeles, the Persian Gulf, and Oka, Quebec, where having a trained team might have helped prevent or diminish violence," writes Kern.
Runbir Serkepkanî is the program support coordinator for Aegean Migrant Solidarity, CPT's team in Lesvos, Greece. The team accompanies and advocates for the rights of migrants who arrive on the island on their way to seek asylum in Europe. CPT is a partner with Lesvos Solidarity, an organization that runs Pikpa, an open refugee camp, in Mytilini.
The team also monitors deportations and raises awareness about living conditions in the government-run camp of Moria, which Serkepkani describes as a concentration camp. Built for 3,100 people, The Guardian reported in February that the camp currently hosts over 20,000 men, women and children.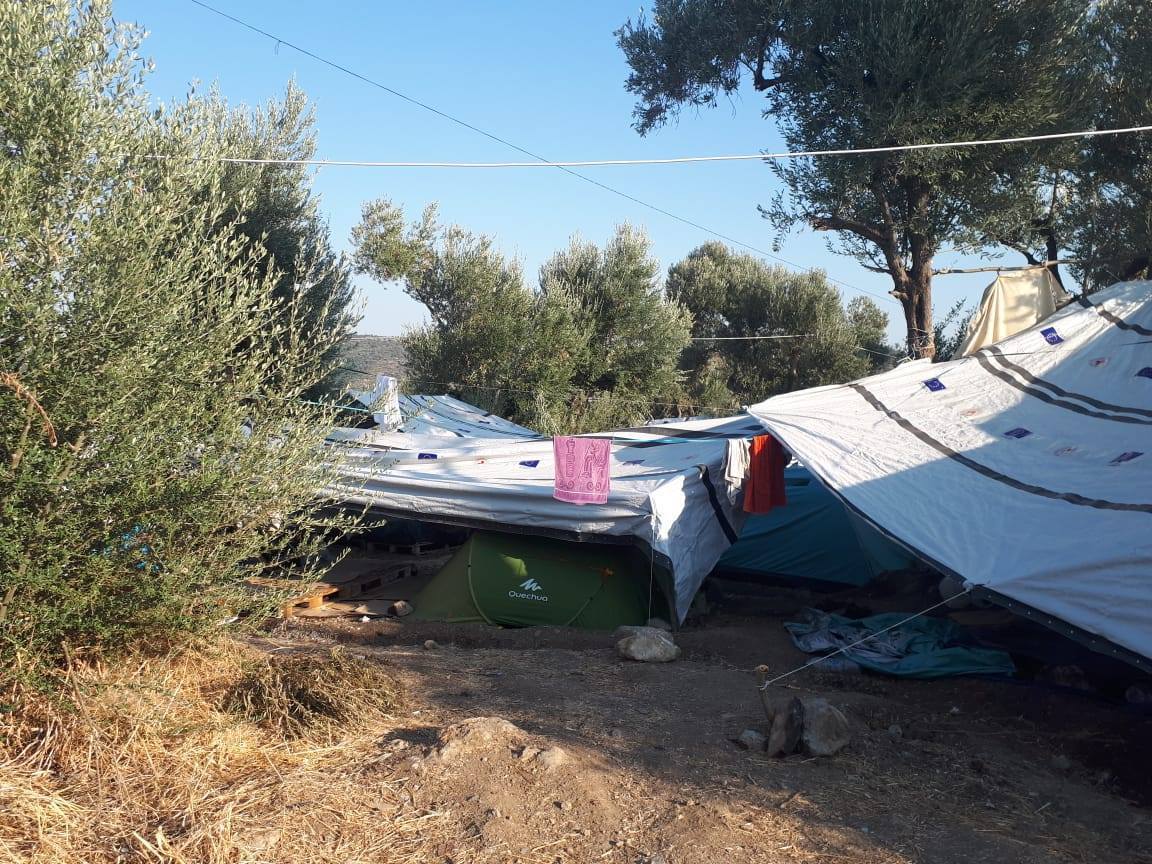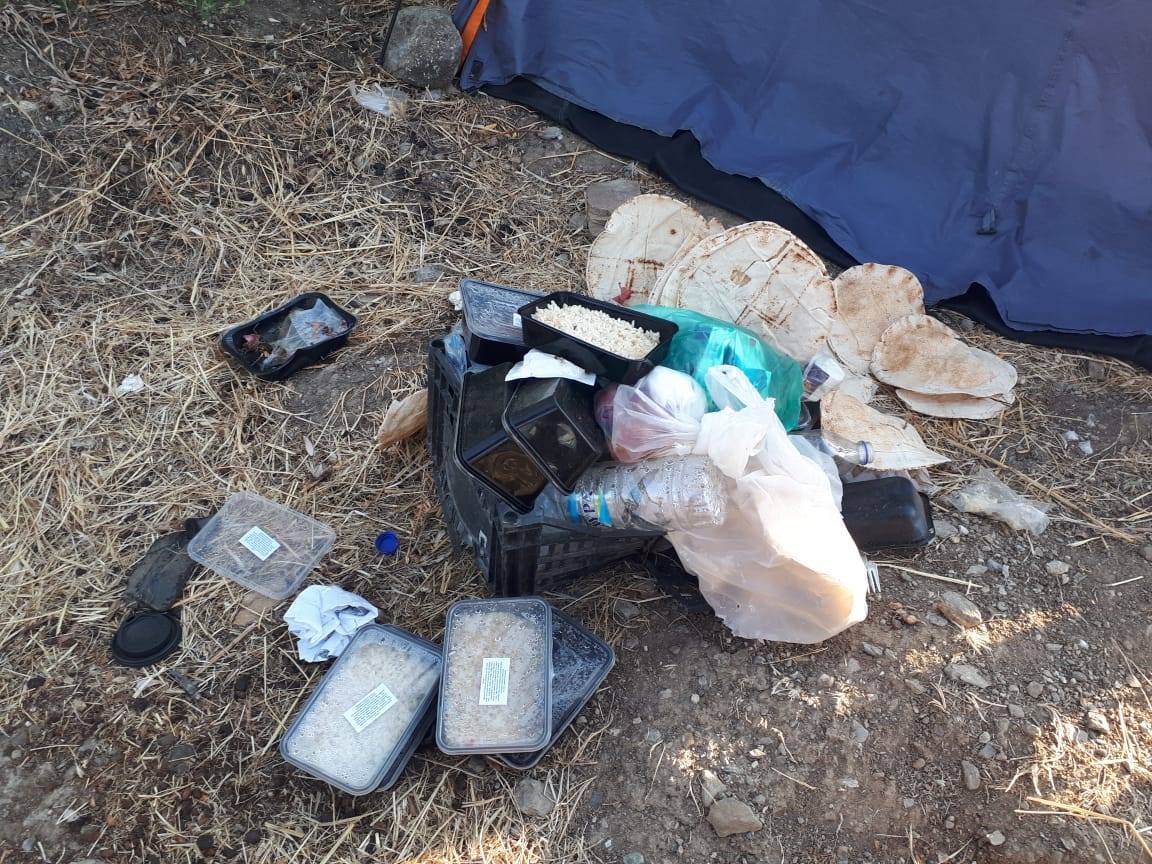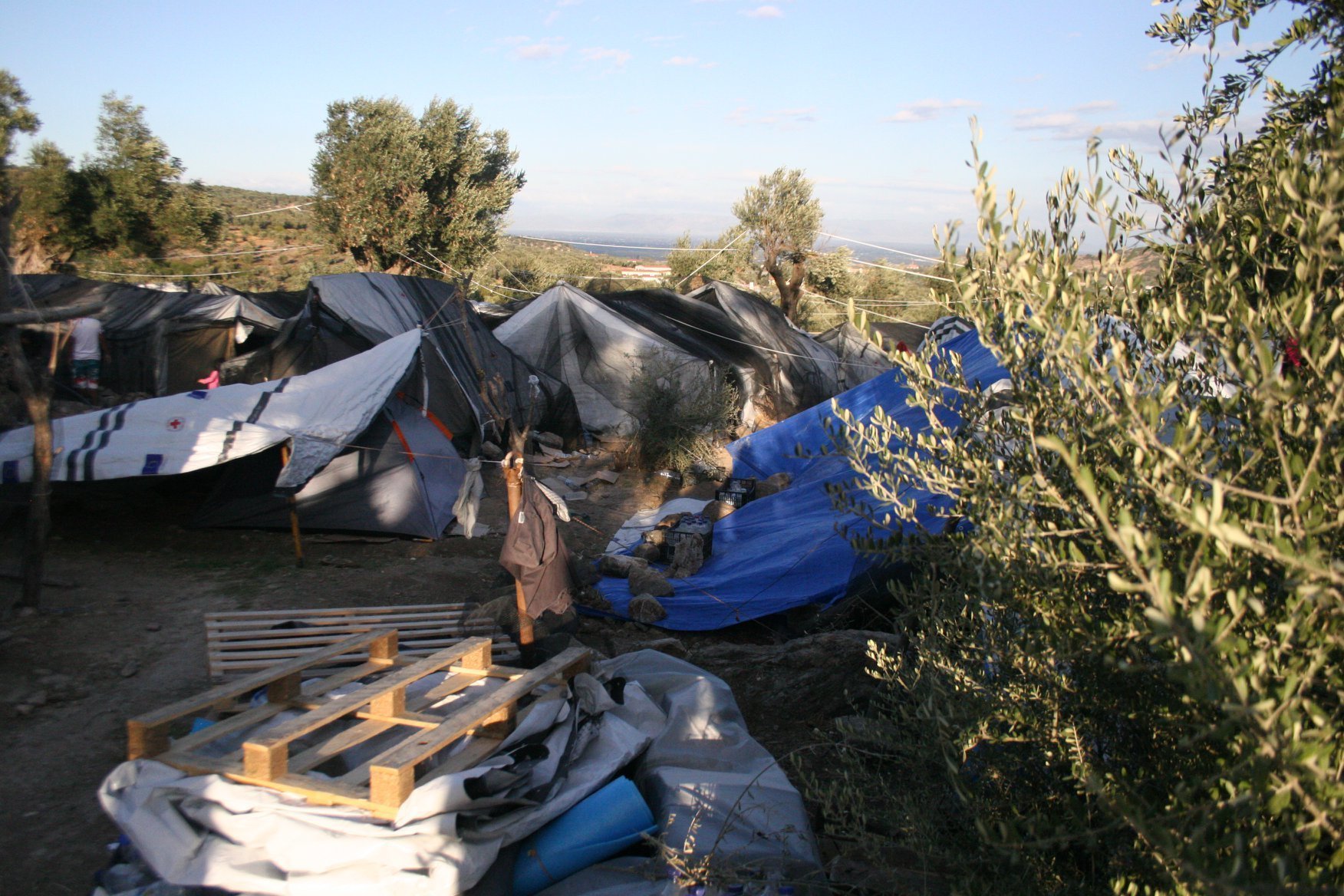 Photos from camp Moria. The CPT Lesvos team regularly visits people living in Moria to report about their situation and share their stories. Source: CPT.
"When migrants protest against unjust situations they are in, we accompany them," says Serkepkanî.
Serkepkanî says migrants protested in 2018 by squatting for one month at the headquarters of the ruling political party, Syriza. CPT didn't squat with them but worked with local activists to monitor the situation, raise awareness and translate for them during meetings.
"Thanks to the resilience of the migrants themselves, the Syriza party decided to hire lawyers for all of those involved and all of them got off the island, eventually," he says.
Time for churches to be active
When asked what they would like folks in Mennonite Church Canada to know about their work, CPT program support coordinators response highlighted the desire for people to be more aware of the conflicts CPT witnesses. They mention how reading the reports and stories on the CPT program websites and attending the new series of webinars CPT now hosts are easy ways for people to learn more.
Each year CPT hosts around 10 delegations. These are one-to-two-week trips that individuals, churches and other groups take to visit crisis settings and witness CPT's faith-based non-violence.[3]
However, Mona el-Zuhairi urges folks in the pews to do more.
"I think it's about time to be active," she says. "It's not enough to pray anymore.... Listen to the stories from the ground. See the stories and then take the stories with you and talk about them. If you can't, you can donate. If you don't want to donate, try to figure out where you can find information that is helpful, that is eye-opening, that will help you to move on and be part of what should be a global movement at this point to call for human rights."
Runbir Serkepkanî emphasizes the need to remember the rights of migrants, that they are like the ancestors of today's Mennonites, who emigrated from Russia and Europe.
"Migrants are human beings. They are fathers, they are mothers, they are kids. They are teenagers with dreams and hormones," he says. "We have to humanize migrants because they are dehumanized. They are called so many other things other than what they are: human beings with dreams of prosperity, of peace, of stability, of love and care."
Learn more about Christian Peacemaker Teams:
Katie Doke Sawatzky is writer and communicators coordinator for Mennonite Church Canada.
[1] According to the CPT website, the Turkish military conducted 350 bombings in the region in 2019.
[2] "Unless comfortable North American and European Mennonites and Brethren in Christ are prepared to risk injury and death in nonviolent opposition to the injustice our societies foster …Unless we are ready to die developing new nonviolent attempts to reduce international conflict, we should confess that we never really meant the cross was an alternative to the sword. …. Making peace is as costly as waging war. Unless we are prepared to pay the cost of peacemaking, we have no right to claim the label or preach the message." (In Harm's Way: A History of Christian Peacemaker Teams, Kathleen Kern, Cascade Books: Eugene, OR, pp. 1-2).
[3] In light of the global COVID-19 pandemic, the majority if delegations for 2020 were cancelled. CPT is not yet planning delegations for 2021 until it receives confirmation from local partners.