October 9th, 2020

Discomfort and courage on Orange Shirt Day
An interview with Paul Peters, Director of Student Life at Mennonite College Institute
Orange Shirt Day, Sept. 30, is recognized as a day to honour survivors of Canada's residential school system. This past month thousands of students across Canada participated in an online event hosted by the National Centre for Truth and Reconciliation (NCTR) for children and youth in grades 5 through 12.
The event consisted of two online sessions. The first, titled "Every Child Matters: Truth – Act One," featured stories from residential school survivors. The second, "Every Child Matters: Reconciliation – Act Two," featured stories from First Nations, Métis, Inuit and non-Indigenous speakers about actions they are taking their communities.
Paul Peters is director of student life at Mennonite Collegiate Institute in Gretna, Man. He runs extracurricular programs for MCI's 83 students, which include daily chapels, discussions and activities around faith exploration and discipleship. Peters organized MCI's participation in NCTR's Orange Shirt Day this year.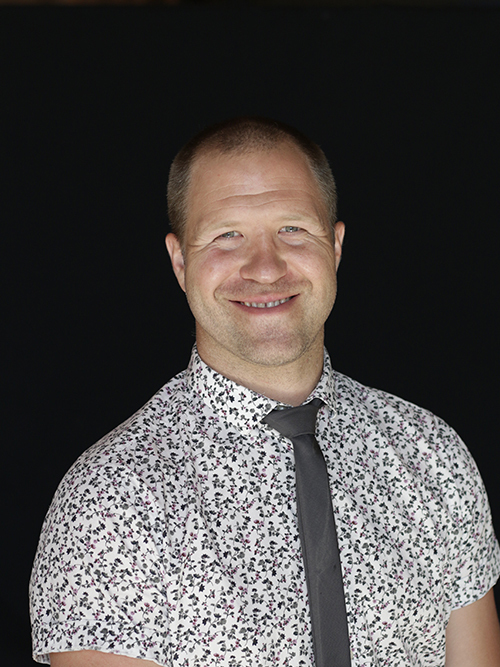 How did MCI participate in the NCTR event for Orange Shirt Day?
We extended our chapel time and our full student body watched the first act in the morning. We spent time discussing in our classes what we learned. In the afternoon, for those who wished to join, we watched the second act on reconciliation. In the evening, for our dorm students, we watched the film Reserve 107 by Brad Leitch, which is about a farming community in Saskatchewan that made a covenant with a neighbouring Indigenous community to work towards land justice. My hope was that we could end the day with a story of people who are getting creative, who want to sit with each other and listen even if it's hard. I think for many of our students it was important to end the day that way.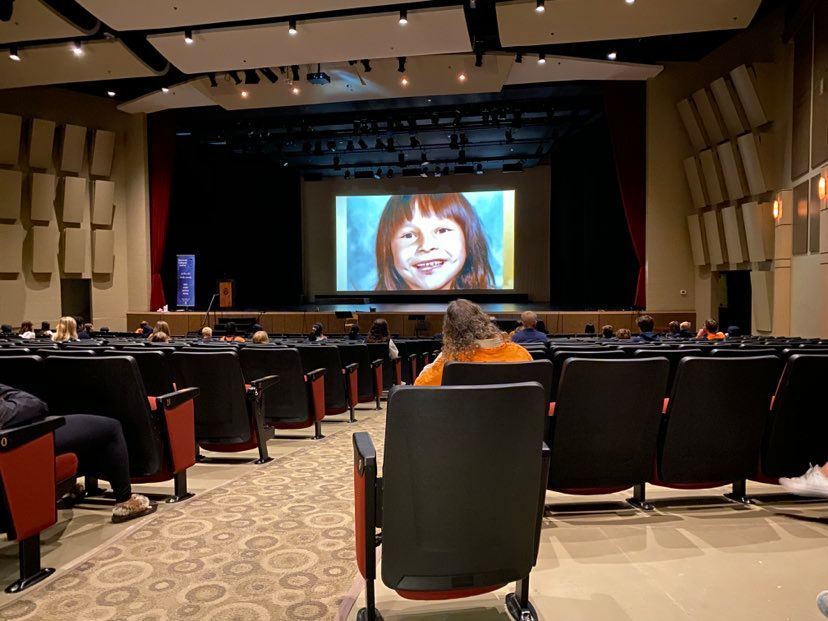 Tell us a bit about the students that attended the event.
We have a whole range of experiences with residential schools within our community, from students who have family members who are residential school survivors, to students who are just beginning the journey of learning of the impacts of Canada's colonial history, and the role that people of faith played in residential schools. There was a spectrum of experiences and we got to sit together and experience that together.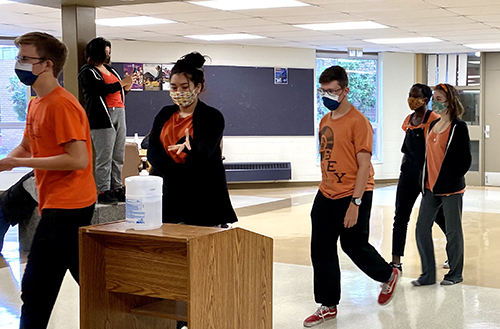 What do you think is most challenging about Orange Shirt Day?
It depends on the student. For a number of our Indigenous students, honouring residential school survivors is honouring their family. I know for some of our students that was really hard but good.
For other students there's a difficulty to place themselves in the story. What does it look like for a settler to sit in that and say, my story is interwoven in this and I can experience the pain and the hurt? It's important to experience that in order for us to move forward together. We need to understand. It's challenging because our natural tendency is to run and distract and cope. We have our phones, we have all kinds of coping mechanisms that are unhealthy and so easily at our fingertips. To sit in that discomfort is not a natural and normal thing, so it was hard but I think it's beautiful.
Did any students say anything during the day that was compelling to you?
I think what was most inspiring and compelling for me was to have a few students whose grandparents were residential school survivors sit and say this day makes me feel like I want to share a bit of my story. I want to share it with the community. That was powerful to me. It's one thing to watch and hear these powerful stories on a screen but then for students within our community to say I want to share my story with the community, that shows a deep level of courage that was inspiring to me.
One can't look to the future without acknowledging and sitting with the past. In order for us to move forward we need to understand and be willing to sit with the heaviness of some of these stories and the inspiration of the survivors and then to say, okay now what do we do?
What is the nearest Indigenous community to MCI?
We're in Gretna, Man., which is near Altona, and the nearest community is Roseau River Anishinabe First Nation.
Why is it important for Mennonite schools to participate in events like this?
One can't look to the future without acknowledging and sitting with the past. In order for us to move forward we need to understand and be willing to sit with the heaviness of some of these stories and the inspiration of the survivors and then to say, okay now what do we do? It would be poor practice for us to just assume we can move forward without learning and experiencing some of that discomfort.
I'm okay to acknowledge I don't think we have done a great job of sitting with that, of thinking about what the work of reconciliation is from our perspective at the school. To be a part of this day was a reminder of the beauty of sitting in brokenness. We need to continue to push to be engaged, to learn, to listen and to ask the question of what role do we play. I am excited by what is to come.
Orange Shirt Day is great but it's one day. Do you have plans to engage the topic of reconciliation for the rest of the year?
I have realized our first step is to sit and listen to the stories of the students that are in our community currently and to say this is a space for you, we want to sit with you and listen. I think their voices and stories will inspire and maybe even point in the direction of what's next. I think there's lots to come but I think that's where we need to start.
Orange Shirt Day arose out of a reunion project in 2013 commemorating the impact of St. Joseph Mission Residential School in Williams Lake, B.C. Secwepemc, Tsilhqot'in, Southern Dakelh and St'at'imc Nations along with the Cariboo Regional District participated in the event. Phyllis Webstad, from the Stswecem'c Xgat'tem First Nation (Canoe Creek Indian Band), shared her story of how, as a six-year-old on the first day of school at St. Joseph's, the new orange shirt she wore, given to her by her grandmother, was taken away from her.
People are encouraged to wear orange shirts on Sept. 30 to honour Webstad's story and the stories of residential school survivors who were forced to leave their families, traditions and land to go to school.
Canada's residential school system was created in the late nineteenth century and run until the 1990s. The schools were government-supported but run by churches. Approximately 150,000 Indigenous children attended schools built across the country, many of them far away from the children's families and communities.
At the schools, children experienced widespread physical, mental and sexual abuse at the hands of school staff. Many children also died from diseases brought on by malnutrition and exposure to the elements. So far the National Centre for Truth and Reconciliation estimates that over 4,000 children died while attending residential schools.
This abuse was brought to the public's attention largely through testimonies of survivors at the Truth and Reconciliation Commission events from 2010-2015.