December 4th, 2020

'For God all things are possible': Mennonite Church Colombia continues its witness despite great risk
Iglesia Cristiana Menonita de Colombia issues bold statement against massacres and ongoing violence affecting most vulnerable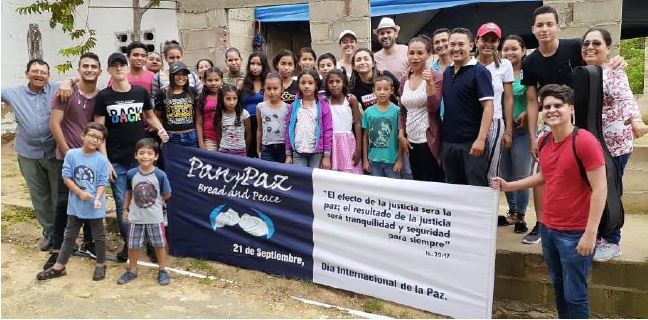 Source: IMCOL.
In late October, Iglesia Cristiana Menonita de Colombia issued a public statement declaring that there have been 60 massacres (killings of five people or more) so far in Colombia in 2020. Victims include young people and small farmers, as well as 200 civic leaders. The violence stems from a decades-long, multi-layered conflict between guerilla, paramilitary and drug cartel groups who fight for control of the country's land for their own interests.
"This same individualistic emphasis is also manifest in the overall economic functioning of the country, making it a major obstacle to overcoming the poverty and inequality that afflict Colombia, and which particularly affects Afro-Colombian and Indigenous populations, women, and small farmer families," the statement reads. "It is in this reality that we find ourselves as a church: a reality of violence and injustice that requires that the church, the body of Christ, respond with faithfulness and wisdom."
Carlos Moreno is senior administrator for IMCOL, which has 25 congregations in four regions in Colombia. He said IMCOL's guiding biblical text for 2020 comes from Matthew 19:26: "But Jesus looked at them and said, "For mortals it is impossible, but for God all things are possible."
"A lot of what's going on is not in the big cities, where the T.V. cameras and news outlets are," said Moreno. "A lot of it is hidden and so our people are there and we expose what is happening and we try to inform the public and the government."
There was hope that a peace accord signed in 2016 between the government and the Revolutionary Armed Forces of Colombia (FARC) would bring an end to the violence. A change of government in the last election and its failure to uphold promises made in the accord means that peace is not materializing.
'Our sense of the importance of hope is inspired by God in us and in our understanding of faith.'
IMCOL's relief agency, Mencoldes, provides food, health services and education to communities, while Justapaz, its peace-and-justice organization, documents violence and accompanies victims. Rural communities in particular face the constant threat of violence as they try to reclaim land taken land taken by drug cartels, para-military groups and guerrilla forces.
Moreno said their accompaniment work makes it difficult for groups to move peasants off the land, especially since IMCOL denounces violence publicly.
Jack Suderman, former administrator and teacher at IMCOL's seminary in from 1989 to 1994, said that while IMCOL's statement is one in a long line of responses to the country's violence over the years, it is no less significant.
"To speak out at all like that is still risky. It generates reaction," said Suderman.
Moreno says church leaders have safety protocols in place as they work and accompany in their communities. They know the risks and choose to serve anyways because of the hope they have.
"If Christian faith is at its foundation a hopeful faith then regardless of how difficult things are we always look for ways in which we can help a little bit here and there and simply be a spark of hope for the lives of people as they need it," said Moreno. "Our sense of the importance of hope is inspired by God in us and in our understanding of faith."
IMCOL's statement also outlines seven of its responsibilities. Denouncing violence, promoting peace and justice, and accompanying victims are listed, as well as practicing solidarity by advocating for better living conditions in communities.
Suderman notes that the biblical references alongside these duties are evidence of IMCOL's firm Anabaptist and theological training. He said Mennonites elsewhere can learn from this statement the importance of training in an Anabaptist perspective, of international solidarity and of continuing to support IMCOL in its work.
Mennonite Church Canada International Witness supports the Colombia Mennonite Church with grants for ministries, especially in the areas of leadership development, church planting and missions. To learn more and to donate to this ministry, go to mennonitechurch.ca/colombia.