December 4th, 2020

Together in Worship launches in collaboration with CommonWord
Online collection of Anabaptist resources offers resources and welcomes submissions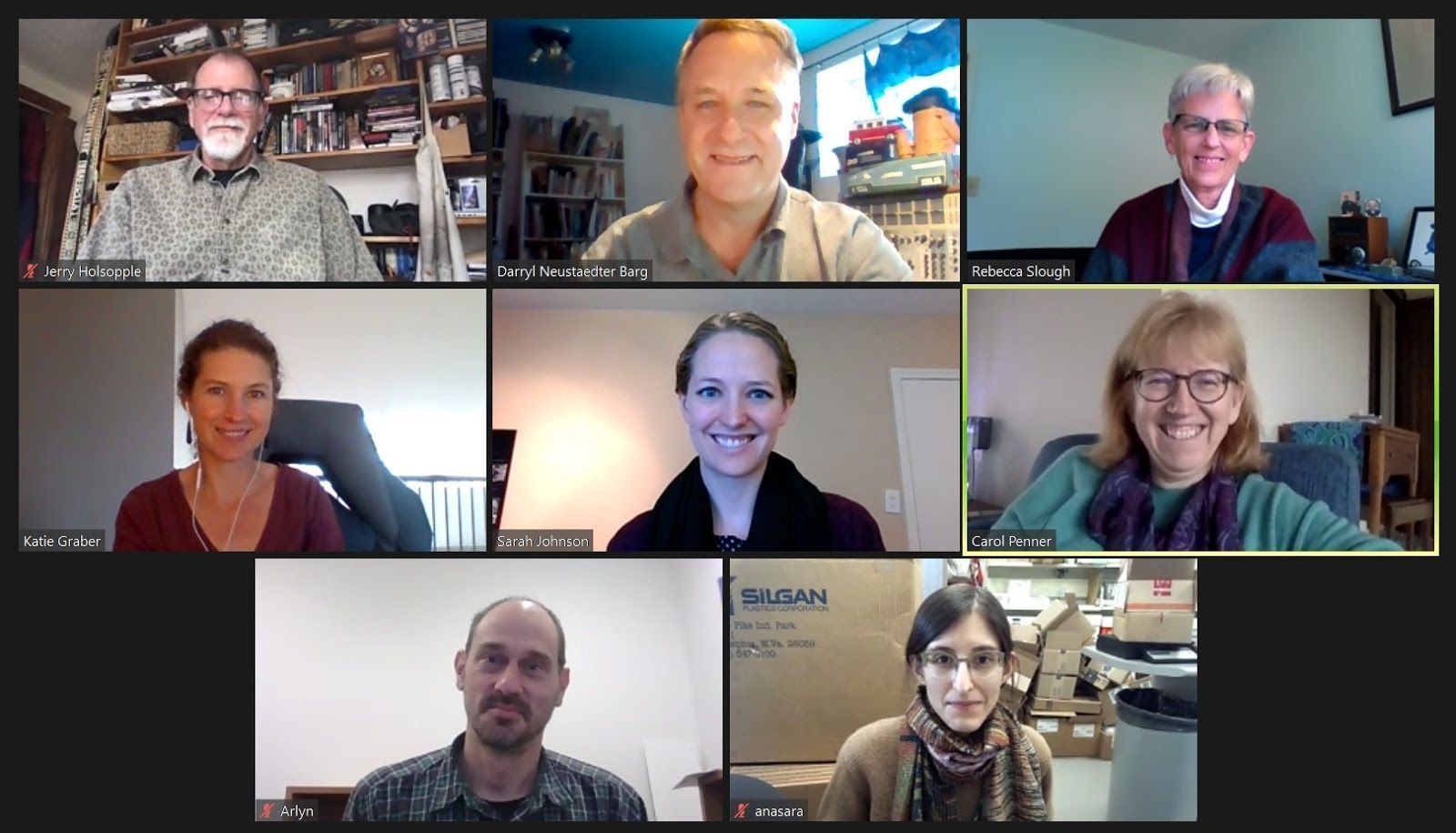 Together in Worship leadership team (from top left): Jerry Holsopple, Darryl Neustaedter Barg, Rebecca Slough, Katie Graber, Sarah Kathleen Johnson, Carol Penner, Arlyn Friesen Epp, AnaSara Rojas. Source: Together in Worship.
While Mennonites across Canada and the U.S. eagerly await the arrival of the new hymnal Voices Together, hundreds of online worship resources are already accessible to them through a brand new website that launched this November.
Together in Worship, at www.togetherinworship.net, is an online, curated collection of free and downloadable Anabaptist worship resources. It's also a place where contributors can submit their own resources to be shared by the wider Anabaptist and ecumenical community.
"Mennonite worship is often led collaboratively by volunteers within a community," said Sarah Kathleen Johnson, chair of TiW's leadership team and worship resources editor for Voices Together. "Supporting those volunteers is at the heart of Together in Worship, but in a collaborative way. We want to provide resources but also to invite leaders to share what they create in their contexts, taking local-level collaboration beyond the local congregation into the wider church."
The website was built in collaboration with CommonWord Bookstore and Resource Centre, which launched its own new site in June. The websites share the same database and structure and so resources from Together in Worship are also available through CommonWord.
'Supporting those volunteers is at the heart of Together in Worship, but in a collaborative way.'
"This cooperation strengthens the creative capacity for gathering and sharing worship resources that reflect the growing diversity of voices and gifts within our congregations both in the US and in Canada," CommonWord director and TiW leadership team member Arlyn Friesen Epp. "This shared digital platform is a gift to each other and to the wider ecumenical church."
There are currently 1,500 resources available through Together in Worship. Most are written resources, but the vision is to have more music, videos, visual art and teaching resources available in the future. Original worship resources submitted to CommonWord in the past will also be incorporated. Examples of resources already available are:
resources from Mennonite World conference
video children's stories
worship series from Leader magazine
poetry
historical Anabaptist resources
resources from bloggers Carol Penner and Joanna Harader
teaching resources on Mennonite worship.
The project has been funded entirely through grants, including a 2019 Teacher-Scholar Grant from the Calvin Institute of Christian Worship received by Carol Penner, and a Bequest Earnings Disbursement Fund grant from Shantz Mennonite Church in Baden, Ont.
For more information, read Together in Worship's press release. Visit Together in Worship at togetherinworship.net. Follow Together in Worship on Facebook or Instagram. Donations are also welcome to support the ongoing development of the site.