February 19th, 2021

Conrad Grebel offers virtual youth events for congregations across Mennonite Church Canada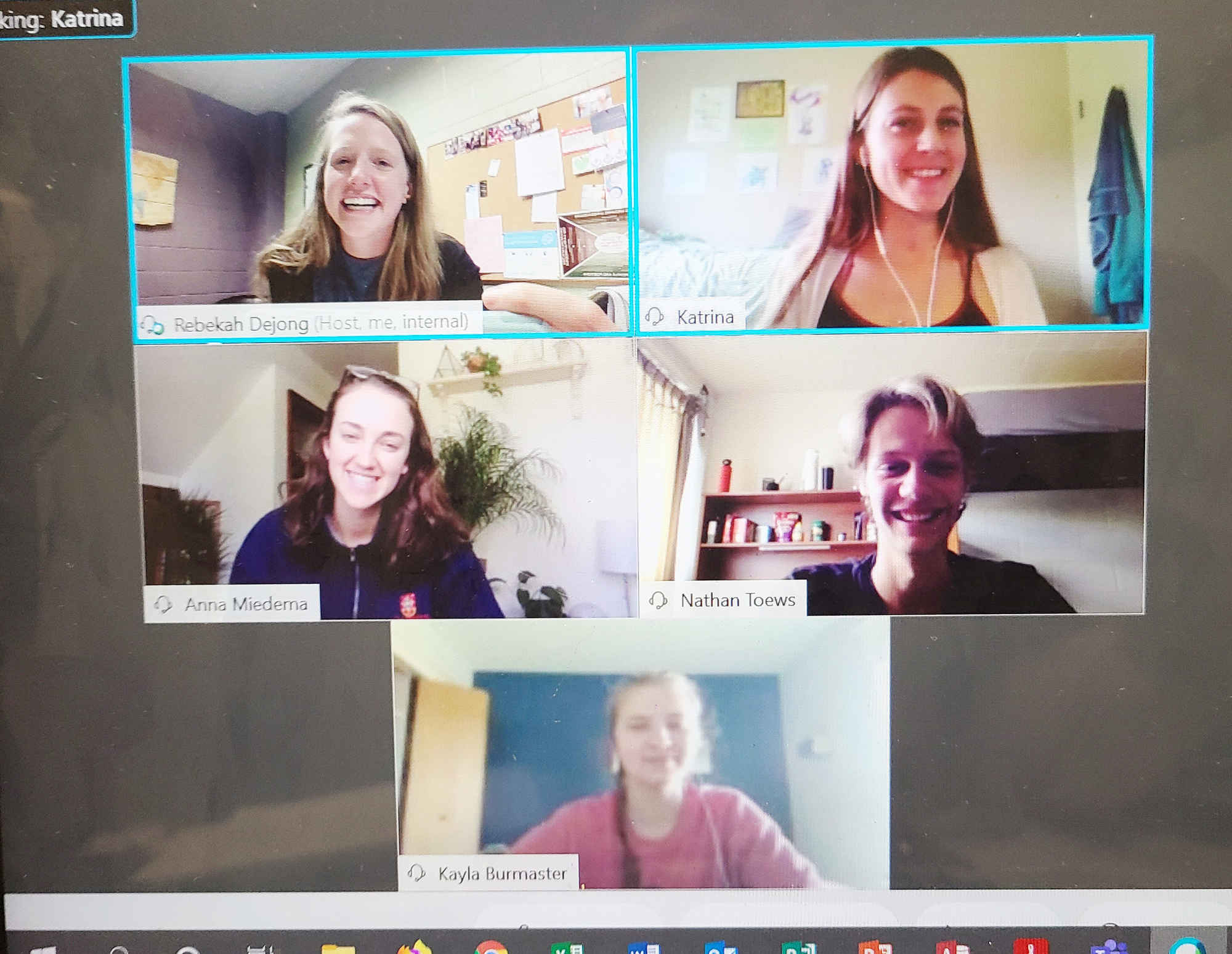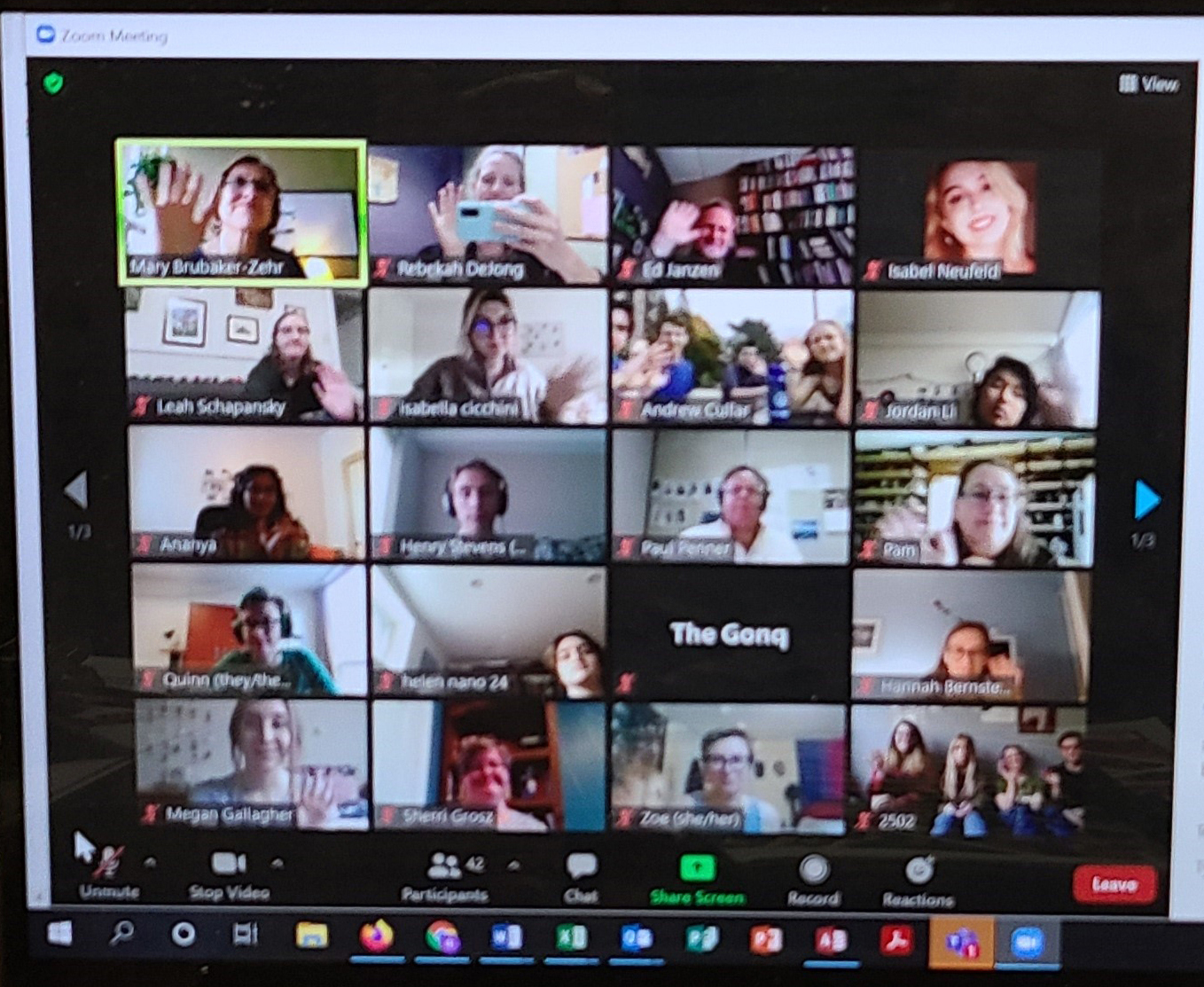 Left: Grebel ambassadors lead virtual youth events and share their university experiences. Right: Youth from one of Grebel's recent virtual events. (Photos courtesy of Rebekah DeJong.)
As Canada crests the second wave of the COVID-19 pandemic, virtual online meetings have become an essential part of congregational life. By now pastors and church leaders are into their eleventh-month of organizing online meetings on virtual platforms like Facebook Live, YouTube and Zoom for their Sunday services.
But what about youth events?
Translating youth events—times usually full of games, activities and fun dependent on physical interaction—into virtual events might seem daunting, but students from Conrad Grebel University College are up for the challenge.
Grebel's Virtual Youth Event: Purpose, Calling and Connection serves two purposes: it provides pastors and youth leaders a well-deserved break from planning a virtual event for their youth and it offers youth a chance to learn about Grebel from current students.
"We recognize the need for more virtual content," said Rebekah DeJong, student life and recruitment coordinator for Grebel. "It's hard to plan virtual events, to keep things fresh and creative."
Grebel has led six virtual events so far with several booked for the near future. Because of the online format, DeJong is excited that the college can offer these events to congregations across Canada and in the U.S.
"That's the beauty of this! There's no barriers," she said. "We schedule around the youth group. If they want to do it at 7 a.m. in the morning, then we can do that."
Each event can be tailored for each youth group and Grebel provides the activities for the event, which are led by Grebel students. These include icebreaker activities and several games where youth are split into teams. Past events featured "Spot the difference" competition on shared Grebel photos, a virtual scavenger hunt using Google Earth and Kahoot, a popular online trivia game.
"They get pretty competitive!" said DeJong.
So far there have been up to 16 youth on a call, with three to four Grebel ambassadors.
'That's the beauty of this! There's no barriers.'
DeJong said there is also an "enrichment time" where GREBEL ambassadors share their experiences about coming to the college and beginning university classes with the high school youth. They also talk about their sense of purpose and calling.
Isaac Painting, a fourth-year computer science student, is a Grebel ambassador. He said so far youth enjoy themselves at the events.
"We dive into conversations about purpose and God's plan for us that help bring peace about the next big steps in their lives," he said.
Johnathan Brubacher, associate pastor of Almira Mennonite Church, joined his youth for one of GREBEL's virtual events.
"We loved hearing current university students share personal stories of how they sought to follow God's call and leading," he said.
To book a virtual youth event with Grebel, contact Student Life and Recruitment Coordinator Rebekah DeJong.