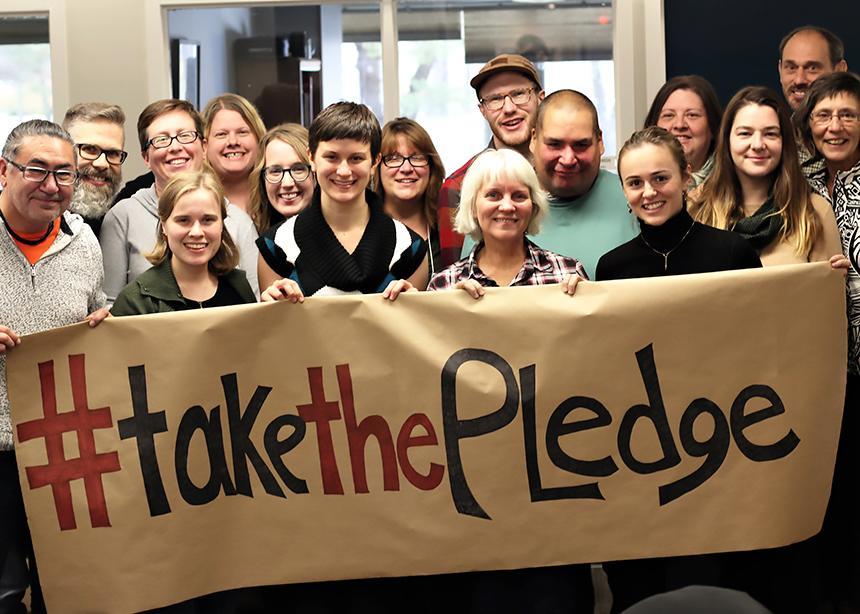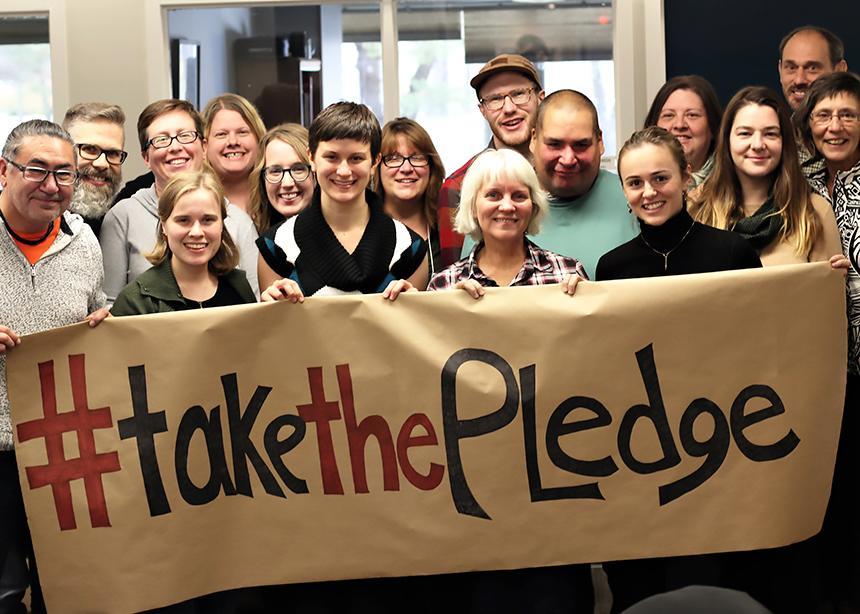 Romeo Saganash (far left) and Steve Heinrichs (beside) with CMU community members in 2019.
Photo Source: Courtesy Canadian Mennonite University.
It's been nearly five months since Indigenous leaders, activists and members of faith communities across Mennonite Church Canada celebrated the passing of Bill C-15, the United Nations Declaration on the Rights of Indigenous Peoples Act, which received Royal Assent and immediately came into force on June 21, 2021, National Indigenous Peoples Day.
The passing of UNDRIP Act affirms the UN Declaration as an international human rights instrument that applies to Canadian law and requires the federal government to ensure those laws are consistent with the Declaration. This comes fourteen years after the United Nations General Assembly adopted the UN Declaration in 2007, an adoption that Canada, the U.S., Australia and New Zealand notably voted against.
Bill C-15 builds on its predecessor Bill C-262, a private members bill put forward by former NDP MP of Abitibi—Baie-James—Nunavik—Eeyou Romeo Saganash in 2016. Bill C-262 made it to the Senate and died on the order paper in 2019. Steve Heinrichs, director of Indigenous-Settler Relations, worked closely with Saganash on C-262, mobilizing members of Mennonite congregations to participate in letter-writing campaigns host teach-ins, join hunger fasts, and walk the Pilgrimage for Indigenous Rights in 2017.
I interviewed both of them this past July to discuss the passing of Bill C-15 and their reactions during a difficult time of mourning for Indigenous communities. At the time of the interview, hundreds of unmarked graves had been discovered at sites of former residential schools in B.C. and Saskatchewan. (As of September, 1300 unmarked graves have been found across the country.)
This interview has been condensed and edited for clarity.
How did you two meet?
Steve: The first time Romeo and I met we were at Folio Café at Canadian Mennonite University in 2016. Romeo was inviting me to take up this work. I remember asking, how do I get my church involved with this because some might see this as partisan politics. Romeo looked at me and said, "How are the rights of Indigenous people's a partisan issue?" It was a bell weather moment. That was the start of a really deep, personal journey for me to get to know the UN Declaration and to mobilize around this in a grassroots way. It's changed a good course of my life doing this work in relationship with Romeo and grassroots organizer Leah Gazan (now NDP MP of Winnipeg Centre) and others.
How did you react when you received the news that Bill C-15 had passed in June?
Romeo: I was in Ottawa, following very closely the different stages of the Bill throughout Parliament and then the Senate. I was happy, but at the same time I know our governments and the Crown will always try to bypass rights in signing treaties or in legislation like Bill C-15. The challenge now begins for the implementation of the Declaration. The courts will have to now consider the Declaration in their decisions on Aboriginal and treaty rights and human rights as the Bill confirms. The other core element of Bill C-15 is that Canada will do everything to make sure that laws in Canada are consistent with the UN Declaration on Rights of Indigenous People's Act. That's a great step forward for all Indigenous peoples.
The challenge now begins for the implementation of the Declaration.
Steve: I was up at Unist'ot'en Camp where I didn't have cell data or wi-fi so I heard a number of days later when I was able to go into Houston, B.C. I was elated. I was so grateful, so happy that this moment had come to pass. This is something that friends like Romeo and Leah Gazan and Dr. Willie Littlechild, and others have worked for, for so, so long. I was also really grateful for friends and colleagues from my church family and community to be able to see that this effort was a tangible win. This isn't a Liberal Party victory; this is a result of grassroots people organizing.
What has it been like for you to hold this victory all the while, hearing about these stories of unmarked graves from residential schools in B.C. and Saskatchewan?
Romeo: It's been difficult. I am a residential school warrior. My family lost my little brother in the first year he attended residential school. Before I was born, he was sent to residential school in 1954 and he died there the first year. To this day, because of the fact that they didn't have death certificates for those babies, we still don't know how he died, from what he died. It took us forty years to find the grave. All of this happening right now is pretty triggering for a lot of us, including myself and my family, even my children who did not experience residential school. At least this Bill was passed. It would have been so tragic in this country if the Bill had not passed when all this information came out.
Steve: The reality is there's so much present harm that is happening right now, too. That's why this legislation's so critical as well. In Unist'ot'en the land is being dispossessed from them. Industry is cutting and clearing their territory to put in a pipeline project that is totally insane in this time of global heating. It makes no sense for global humanity and it's a violation of the basic standards of the Unist'ot'en people.
How can denominational faith-based communities, like Mennonite Church Canada, support the implementation of Bill C-15?
Romeo: We're all in this together. It's important to uphold those rights on the one hand, but also acknowledge and respect the priorities that will be identified by Indigenous peoples throughout the country in terms of implementation of the UN Declaration. Indigenous people live in different political and constitutional contexts. I live under the constitutional regime called the James Bay Northern Quebec Agreement and any action or development that happens in the James Bay territory must respect the terms of this treaty. We've been insistent on that throughout the last fifty-sixty years. Other nations will need to determine how they want to do things.
Steve: TRC Call to Action #48 calls all faith communities to adopt and comply with the minimum standards of the UN Declaration. I think we still have work to do within our own community to increase awareness and share how we are going to work towards embodying these commitments in our practice. Faith communities are also called to address the residential school legacy, spiritual violence and to respect Indigenous spirituality.
Faith communities are also called to address the residential school legacy, spiritual violence and to respect Indigenous spirituality.
Anything else you'd like to add?
Romeo: The former and late Grand Chief Billy Diamond, who negotiated the James Bay Northern Quebec Agreement for the Cree in 1981, told me once: when you grow up and take leadership roles in the future, it will be up to you to build upon what we managed to negotiate. You can't get everything you want. You'll have to build on that, which I did in 2002, when we signed a major deal for revenue sharing with Quebec. I think our kids and next-generation leaders will have to build on Bill C-15 and the UN Declaration and see it where that takes them.
Students always ask me what is my favourite provision in the UN Declaration. I always refer to the second perambulatory paragraph that reads, "Affirming that Indigenous peoples are equal to all other peoples while recognizing the right of all peoples to be different, to consider themselves different, and to be respected as such." That is such is a simple proposition, but yet probably the hardest to uphold when it comes to Indigenous peoples.
I think our kids and next-generation leaders will have to build on Bill C-15 and the UN Declaration and see it where that takes them.
Steve: I just want to say how incredibly grateful I am to you, Romeo, for the courage and patience and grace that you've extended to me and my church community by inviting us into this. Because it's really had an impact on our Mennonite community. So many more people know about the Declaration in our community and took first steps of political advocacy through this work. Their lives have been impacted, too.
Romeo: I do acknowledge that you helped a lot in the education of Canadians on Indigenous peoples and the Declaration, so, congratulations to you as well. That is well deserved, too. Let's go for a coffee in the next while.