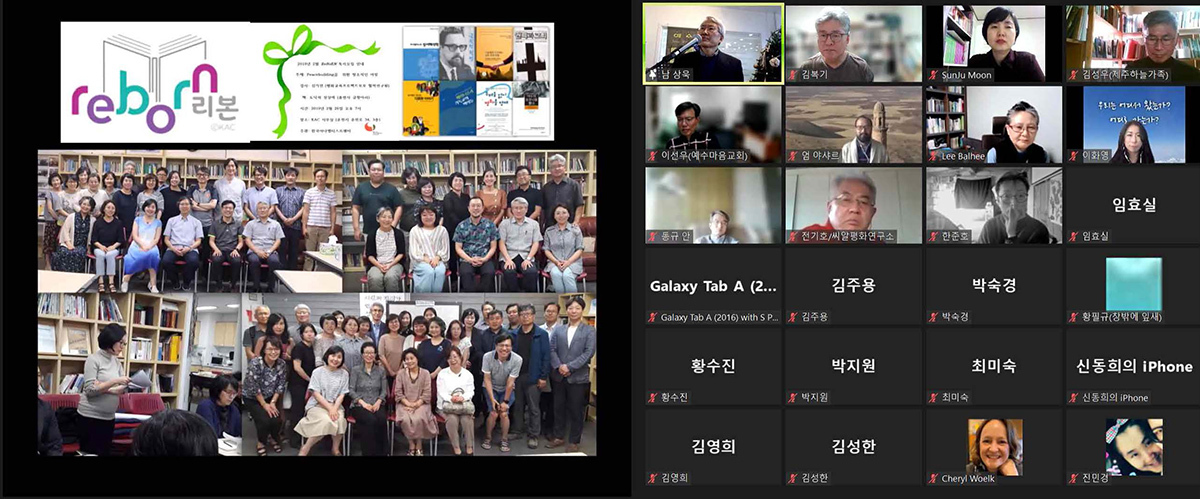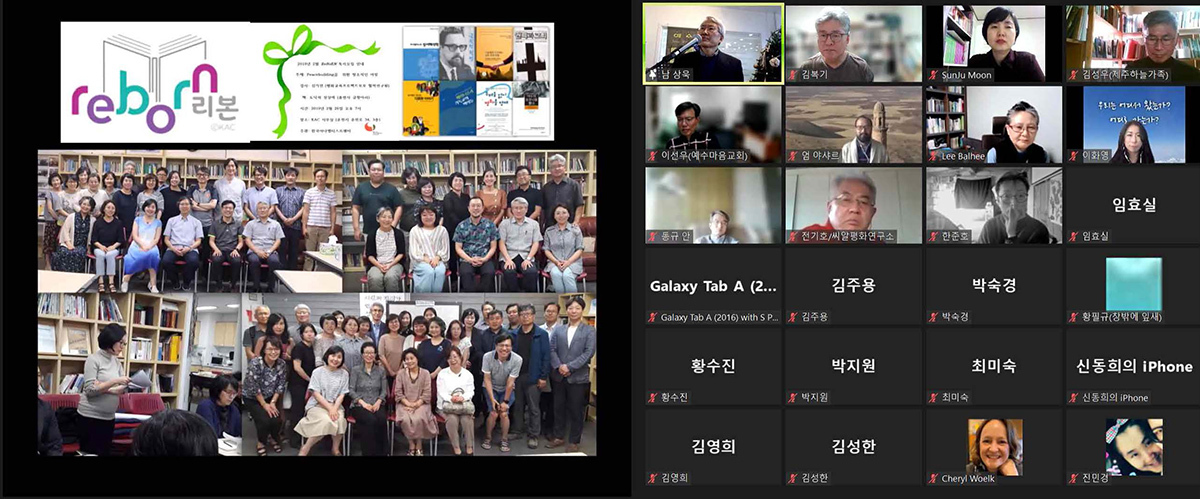 Celebrations for KAC's 20th anniversary were online this year.
Photo Source: (Image courtesy Bock Ki Kim.)
On Dec. 11, 2021, the Korea Anabaptist Center in Chuncheon, South Korea, celebrated its 20th anniversary.
While a fourth wave of COVID-19 in South Korea moved celebrations online, around 30 people came together over Zoom to mark the special anniversary.
"It was very meaningful," says Bock Ki Kim, Witness worker for Mennonite Church Canada.
Among the group were the founding directors of the centre, other former directors and board chairs.
"Yoon Shik Lee, a key leader in this movement, gave the message during worship," says Bock Ki. "SangWook Nahm, the current board chair, presented on KAC's history. Each person was invited to share their connection and expectation for KAC in the coming years."
The Korea Anabaptist Center, established on Nov. 2, 2001, grew out of what still continues to be, a burgeoning interest in Anabaptism in South Korea.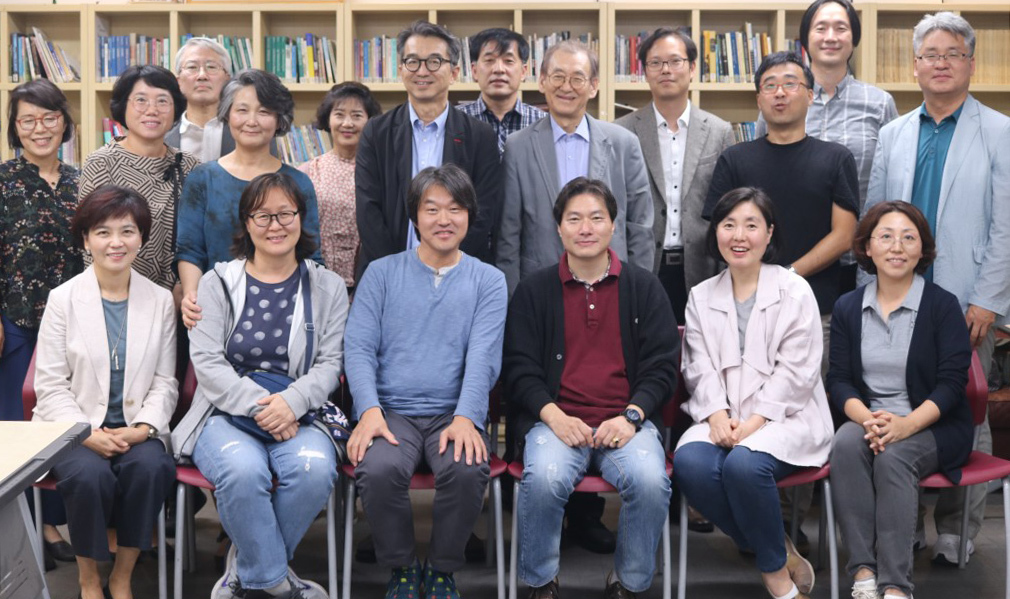 KAC meeting in 2019 after ReBorn, one of KAC's monthly conferences. Current director Sunju Moon sits in front, two from right; Bock Ki Kim stands in the back row, far right, Sook Kyoung Park sits front row, far right. (Courtesy Bock Ki Kim.)
"Although there were many challenges and unknowns in the beginning, God has been faithful in providing people, places and resources, and empowering KAC staff, volunteers and friends to courageously live into communities that reflect and promote God's ministry of reconciliation," says Tim Froese, one of KAC's founding co-directors, and former Witness worker in South Korea for Mennonite Church Canada.
Froese and his family moved to South Korea in 1998 in response to an invitation from Jesus Village Church (JVC), to help create a more formal institute to introduce Koreans to Anabaptism.
JVC's invitation was the result of decades of relationship building between Korean Christians and the former Commission on Overseas Mission, Mennonite Board of Missions and Mennonite Central Committee. MCC had formed the Mennonite Vocational School and worked in South Korea for several decades leading up to the 1970s.
Froese says before KAC was established, Korean Christians were looking for "alternative visions of being church." There was growing enrollment by Korean students in North American seminaries in the 1990s. In South Korea, alumni of Intervarsity Christian fellowship and Campus Crusade for Christ, inspired by William Estep's The Anabaptist Story, formed JVC, a community-oriented congregation in Chuncheon, in the 1990s. Numerous other independent churches formed as well, he notes.
...Korean Christians were looking for 'alternative visions of being church.'

KAC's logo reflects its emphases: Community, Discipleship, and Peace
In its first decade KAC worked with other Mennonite organizations to offer opportunities for international students to come and learn, such as through MCC's service programs (IVEP, SALT and YAMEN) and the Connexus English Program.
Some of the longest serving workers from Mennonite Church Canada were Chris and Laura Mullet Koop (1996-1998), Tim and Karen Froese (1998-2004), Will and Anna Loewen (2007-2010), Erwin and Marian Wiens (2002-2005, 2010-12), Cheryl Woelk (2002-08), and Bock Ki Kim and Sook Kyoung Park (2013 to the present). Over the past two decades, twenty-five people have travelled from Canada to serve with KAC.
The KAC has supported the formation of multiple organizations and initiatives over the years, some of which have begun their own robust forms of Anabaptist education in South Korea:
Korean Anabaptist Fellowship (2010)
Korean Peacebuilding Institute (KOPI) in 2011, now led by former KAC co-director Jae-Young Lee
Northeast Asia Regional Peace Institute (2011)
Northwest Christian Forum for Peace, which is an annual gathering by Christians from Hong Kong, Taiwan, China, Korea and Japan (2014)
Mennonite Church South Korea (2016)
Korean Anabaptist Journal (2012) and Peace Journal (2020)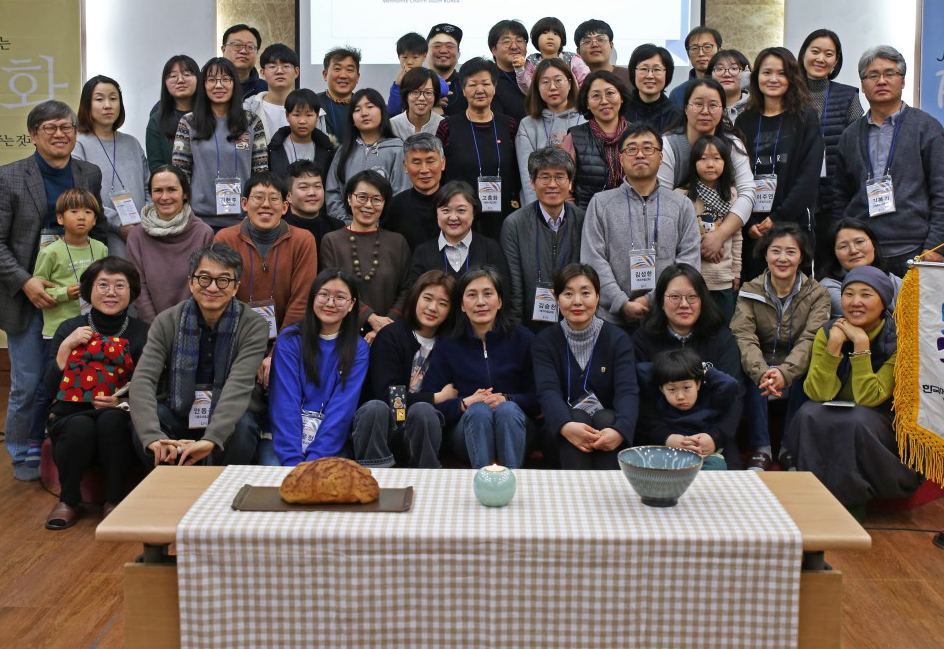 A photo of those who gathered for Mennonite Church South Korea's conference in 2020. (Courtesy Bock Ki Kim.)

Bock Ki Kim served as director of KAC from 2015 to 2018, translating Anabaptist resources into Korean and editing the Korean Anabaptist Journal, a semi-annual publication connecting Korean Anabaptists across the globe.
While the KAC steering committee continues to discuss the centre's vision for the future, KAC's present director SunJu Moon emphasizes three current roles: education, service and resource development.
KAC recruits church members to teach Korean to international students and to show them hospitality, Moon says. KAC also supports restorative justice work with local schools, to aid in conflict resolution.
"I believe that one of KAC's roles is to console Korean Christians who are so deeply disappointed by churches and pastors," says Moon. "Many Christians leave the church … since they can't see any hope from the churches. KAC communicates there is still hope and encourages people to follow Jesus."
The centre, located in Chuncheon since 2012, has held two conferences a year since 2016 on topics related to Anabaptism, such as discipleship, peace and community. Moon says the centre focuses on "bringing peace to Korean churches and society" by networking with other organizations and resourcing them with the many materials KAC has published over the last two decades.
"We are building up the brotherhood and sisterhood to support each other," Moon says.
'We are building up the brotherhood and sisterhood to support each other.'
As the KAC embarks on its 21st year, its friends celebrate not only the centre's journey, but the involvement and commitment of organizations and people around the world to the centre's vision.
"KAC would not exist without the searching, study, courage, dedication, collaboration and gifts of many Korean brothers and sisters in South Korea, Canada, USA and beyond," says Froese.
To support South Korea ministry, visit mennonitechurch.ca/southkorea.