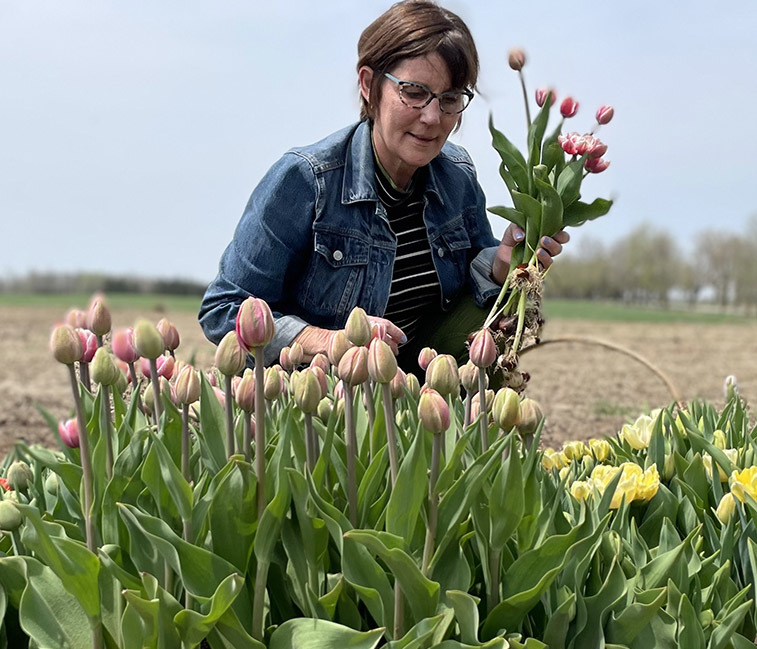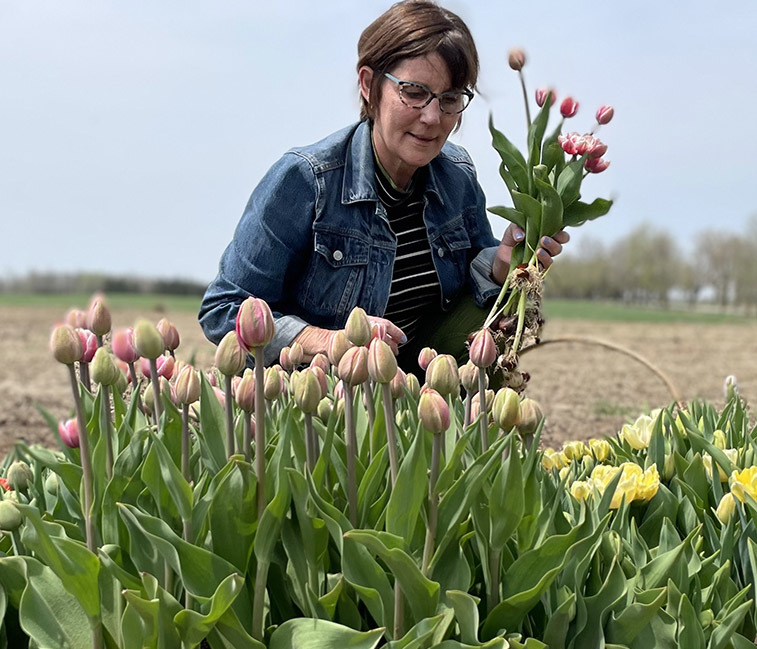 Kara Carter, pastor of Wellesley MC, picks flowers at her daughter's flower farm
Photo Source: Supplied by Kara Carter.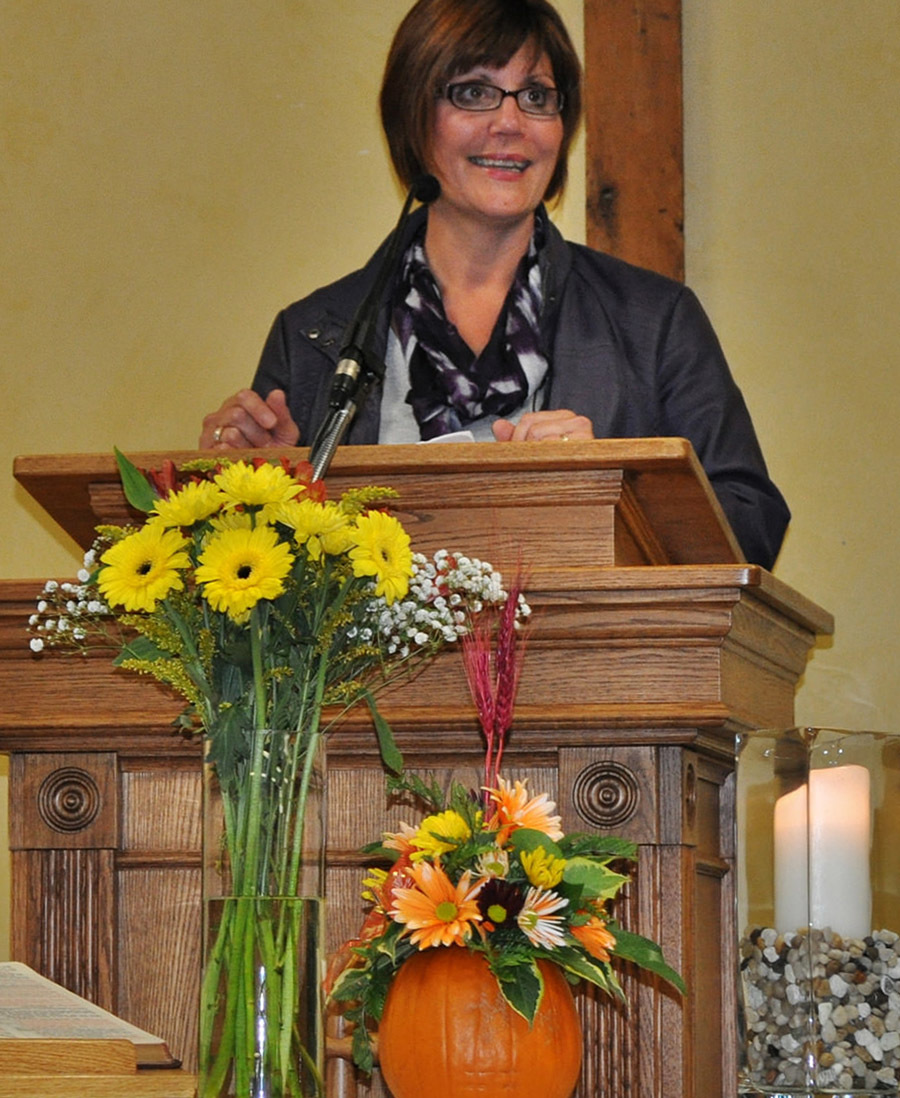 It's going to be a busy summer for Kara Carter.
Before the pastor of Wellesley Mennonite Church speaks at We Declare, Mennonite Church Canada's Gathering 2022 event in Edmonton from July 29 to Aug. 1, Carter will defend her doctoral dissertation on pastoral leadership in June.
For her doctoral research, five months before the pandemic, Carter interviewed pastors about their lived experience leading missionally. Through their stories Carter identified barriers that keep congregations stuck and the hope-filled strengths that reveal how God's people are joining God's work in local communities.
Carter has pastored Wellesley MC for ten years and describes its congregational ministry as community centred. The congregation hosts a local pre-school and shares a live-nativity each Christmas. The sanctuary is a multi-use space, used for Tai Quan Dao classes two nights a week. Together with area congregations, Wellesley launched a community food cupboard to help families who struggle to send their children to school well fed.
Ministry is a second career for Carter. She received her bachelor's degree in religious studies from the University of Waterloo in 2008 and her MDiv in 2011 from Martin Luther University College, where she is currently pursuing doctoral studies.
Carter spoke with MC Canada about her thoughts on where "church" as we know it is headed and why ministry centred on relationship building within local community is so important.
This interview has been edited for length and clarity.
What are the currents of organizational change that you've seen in your research, regarding pastors' lived experiences?
The church is experiencing an identity crisis. Prior to the pandemic, church leaders were already aware that the church was situated in a liminal ("in-between") space even though that term was not specifically named. Congregations are asking "Who are we now? Who is God calling us to be? Who are we becoming?" In my conversations, pastoral leaders and congregations often drew upon the metaphor of "wilderness journeying" to describe the current unsettled time.
Pastoral leaders and congregations often drew upon the metaphor of 'wilderness journeying' to describe the current unsettled time.
The church that many pastors were trained to lead no longer exists. Structures that once served the church well are not serving the church effectively and yet a replacement organizational structure is not clear. Changing attendance trends and aging congregational demographics impact "congregational community" and create challenges for committees and lay leaders charged with pastoral care because they don't know the folks in the pews. Gone are the days of "build it and they will come" and yet this predominant story lives on and can be heard as "let's ramp up music, let's ramp up children's and youth ministry," with the assumption the community "will come." There is still a strong belief that the community knows what the church has to offer and that neighbours will be the risk-takers, walk through the door and engage with the church.
Some congregations equate community engagement with increased attendance – rather than building relationships for the sake of relationships.

What does a more realistic picture of church look like?
Pastors are well trained according to a chaplaincy model of ministry, which focuses on the needs of the congregation (pastoral care, worship, preaching, programs, etc). Some fear that turning outward will involve a loss for the congregation. But in my interviews I heard about the need and the value of building relationships with community partners to address things like affordable housing, climate change, food insecurity, etc. Being "separate from the world" served our Anabaptist forbearers well amidst 16th-century persecution. Today, separateness from the world can be a significant barrier to neighbourhood and community connections.
The church was already experiencing significant cultural change prior to the pandemic. The pandemic just accelerated it. I believe the post-pandemic church will look very different from a pre-pandemic church. It is vital work for congregations be present within this liminal space until their identity becomes clear.
Today, separateness from the world can be a significant barrier to neighbourhood and community connections.
What was your initial response to our Gathering's theme? (We Declare: what we have seen and heard from 1 John 1:3) and why?
This Gathering's theme is timely. Sharing what we have seen and heard—that is, identifying what God is doing—is a vital spiritual posture for the church as we seek to align with God's activity in the world. I believe identifying the activity and presence of God in the local community is a significant learning curve for God's people. When we listen to one another's stories, we are better able to identify God's presence within our own stories and experiences, or at least be curious about the movement of God.
Can you explain what it means to "Go Local" and give me an example of what this looks like in your own church community?
At the core of missiology is the conviction that God is ahead of us in the local community. This process is grounded in Luke 10: 1-11. "Going Local" is a process (created by The Missional Network) of growing in our capacity to be attentive to the movement and activity of God in our neighbourhoods. Living with curiosity and openness to the Spirit of God is a transformative process.
A recent example is a conversation I had with a congregant several weeks ago. They met a new neighbour who has a successful beekeeping/honey business. Just weeks before this, the congregant had spoken with another community member who is deeply interested in creation care. The congregant extended an invitation to the beekeepers to come and share with our adult Christian Ed group, with hopes of sharing the class more broadly in the community, building upon what community members are already doing.
You've mentioned "a ministry of friendship." Are there things about the traditional/historic understandings of witness or evangelism that your church community has let go of or embraced more fully in its journey towards local mission?
For some Anabaptists, evangelism comes with heavy baggage. One research participant related this to tent meetings (typically fire and brimstone in nature). Another identified how shame impacts how their congregation shares faith. Another reflected on how excited young adults are about social justice issues rather than meeting budget and other institutional values.
My missional focus has been directed toward building relationships for the sake of relationships. It is helpful to take a stance of curiosity, openness and reflect upon God's presence in personal interactions. This leads to personal transformation and growth as disciples. And as we build authentic connections, the hope is that others will see/hear something different in our lives: hope, joy, love, peace.
The church needs a new story. I believe as we journey together a new story will become evident.
Disciples of Jesus can no longer assume that our neighbours share an understanding of Scripture or that they may have any understanding of church words like "sin," "salvation," "redemption." Rather, let's ask, do our neighbours understand the purpose of the church, its missional call, the value of community and ongoing spiritual transformation? Something sacred occurs when we share our lives with others and relate at deeper levels. Opportunities arise to share one's faith and be open about our walk with Jesus. The church needs a new story. I believe as we journey together a new story will become evident.
Register now for in-person and virtual participation at Gathering 2022! Visit, mennonitechurch.ca/gathering2022.