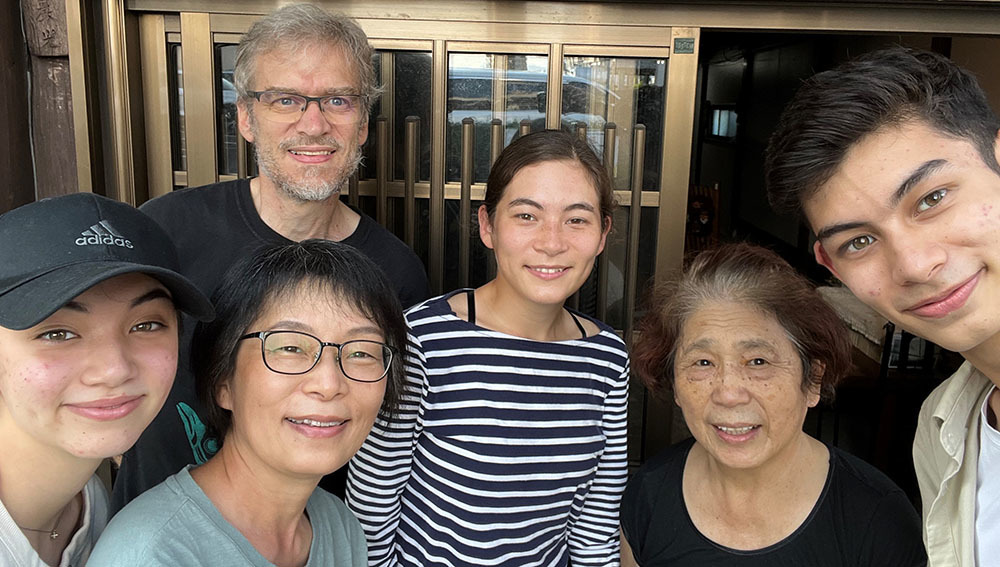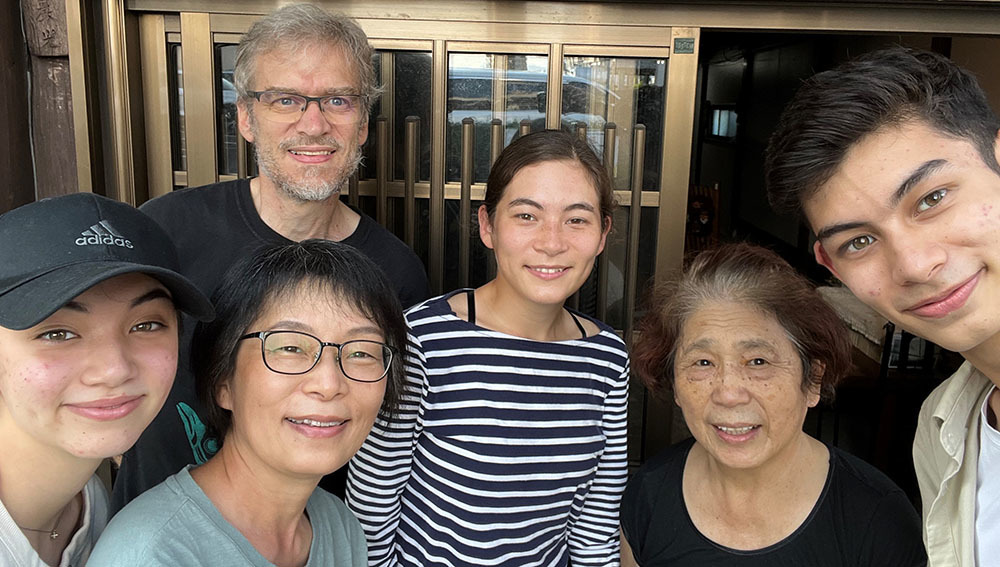 Neufeld family, L-R: Irene, Gerald, Rie, Rena, Tsutsumida (friend), Jay.
Photo Source: Neufelds.
Mennonite Church Canada is pleased to announce Gerald and Rie Neufeld as "relationship catalysts," fostering connections between the nationwide church and Mennonite churches in Japan.
"We are looking forward to seeing how we can build supportive networks among the Tokyo churches and across Japan as well as with churches in North America and Mennonites in Asia," the Neufelds write via e-mail.
Gerald and Rie, who served as Witness workers with Tokyo Area Fellowship of Mennonite Churches (TAFMC) in the early 2000s, moved back to Tokyo in November of 2021, to be closer to Rie's family and to connect again with TAFMC.
"In our conversations with ministry partners, we are asked to foster relationships that are mutually transformative," says Jeanette Hanson, director of International Witness. "We need people, who know the language and culture, to build ways for us to relate and strengthen each other. I hope that we see more relationship catalyst roles in the future."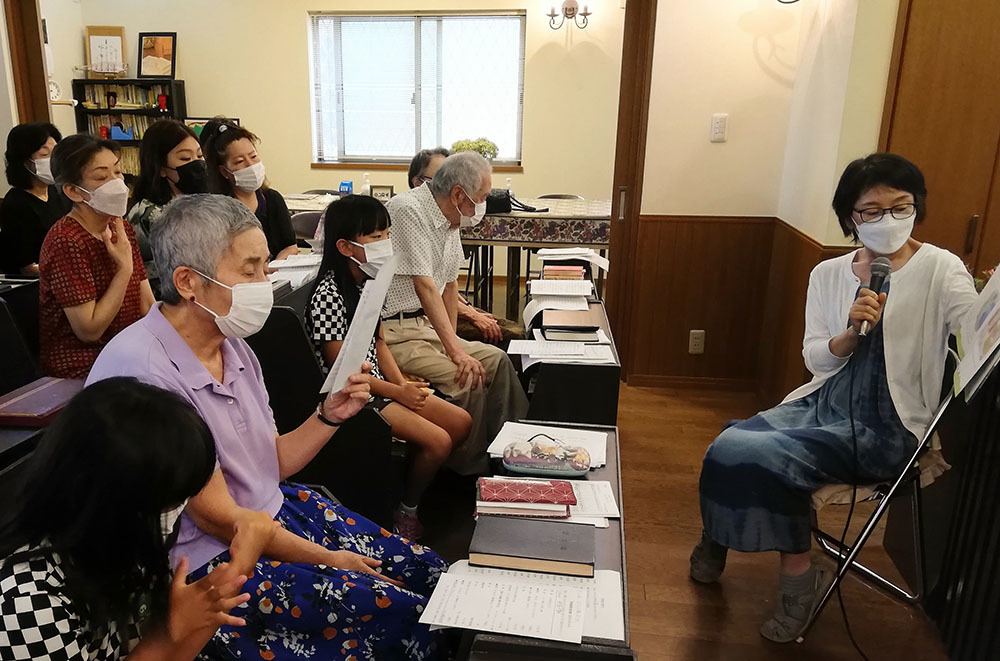 Rie Neufeld (right) sharing children's feature at church in Misato, Japan. (Source: Neufelds.)
The Neufelds plan to stay at the Anabaptist Center in Suginami-ku, Tokyo, which has been used as a guest house for North American missionaries and as gathering place for TAFMC churches in the past. The centre is currently undergoing renovations.
"TAFMC is hoping to bring the Center back to life and restore those connections," writes Gerald Neufeld. "We'd like to see it function as a resource centre for the future."
Gerald and Rie have been pastoring Mennonite Japanese Fellowship (MJCF) in Surrey, B.C., since September 2008. When the pandemic hit and they made their services available online, the possibility of still supporting that congregation while being in Japan opened up. They currently visit a different TAFMC church each Sunday, where Gerald preaches, and Rie often plays piano. Then on Mondays, at 7 a.m., they join MJCF's online worship services.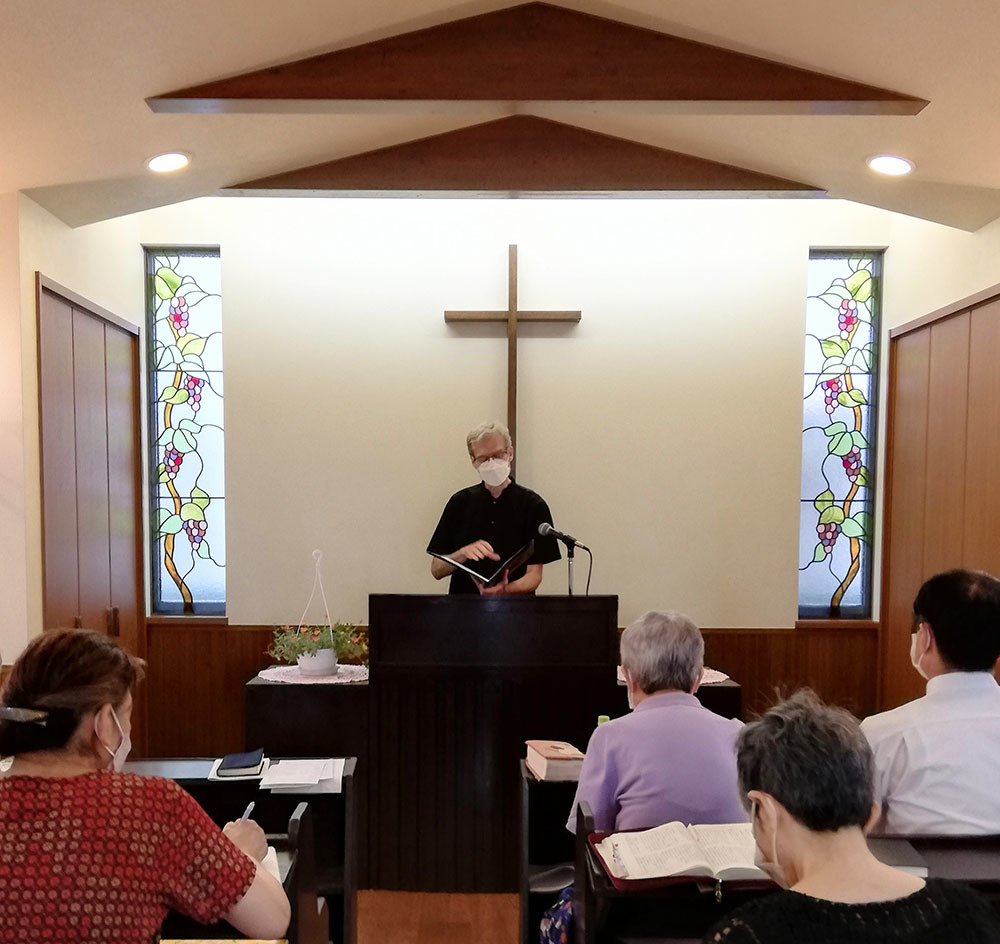 Gerald Neufeld preaches at church in Misato, Japan. (Source: Neufelds.)
The Neufelds say they are still in the stages of imagining the possibilities of their work as "relationship catalysts."
"We are hoping to set up some exchange visits for people from other areas to have a Japanese Mennonite experience. And, we could then set up visits for Japanese Mennonites to visit people in North America," they write.
The term "relationship catalysts" is one the Neufelds heard from a speaker in Tokyo, who was offering an alternative vision of mission, one that prioritized "ministry in 'slow, small, sustainable ways, with a smile.'"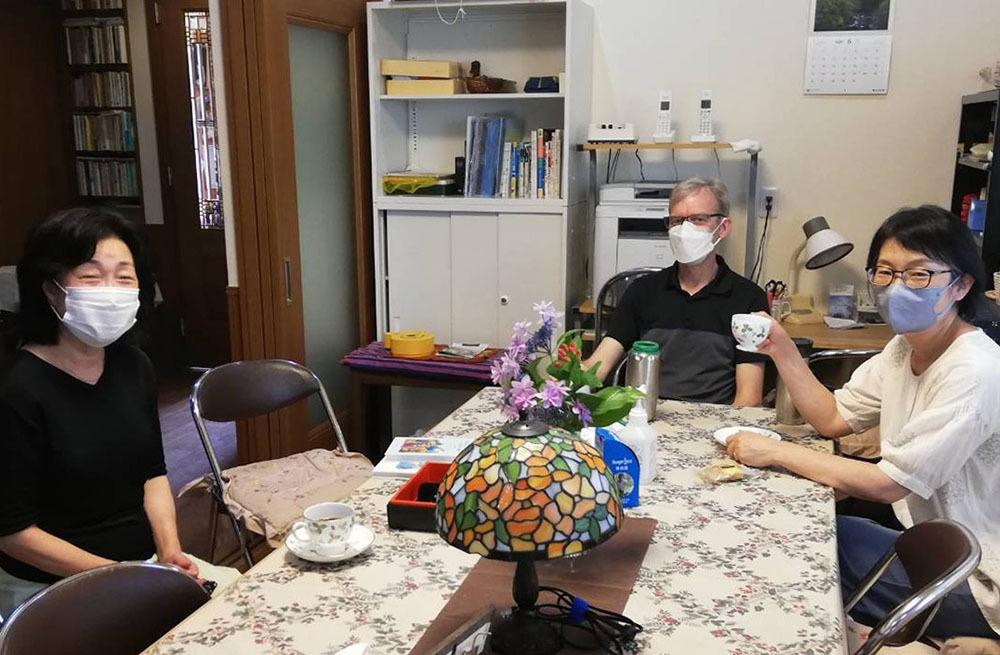 Gerald and Rie Neufeld (middle, right) visiting at church in Misato, Japan. (Source: Neufelds.)
"We are trying to redefine the traditional role of missionary," they write. "In order to build a church-to-church relationship, we expect to see the work of God's Spirit, which can be ignited through continued relationships."
To donate to this ministry, visit mennonitechurch.ca/japan.
-30-
Media contact