May 25th, 2023

Peace Progress in Philippines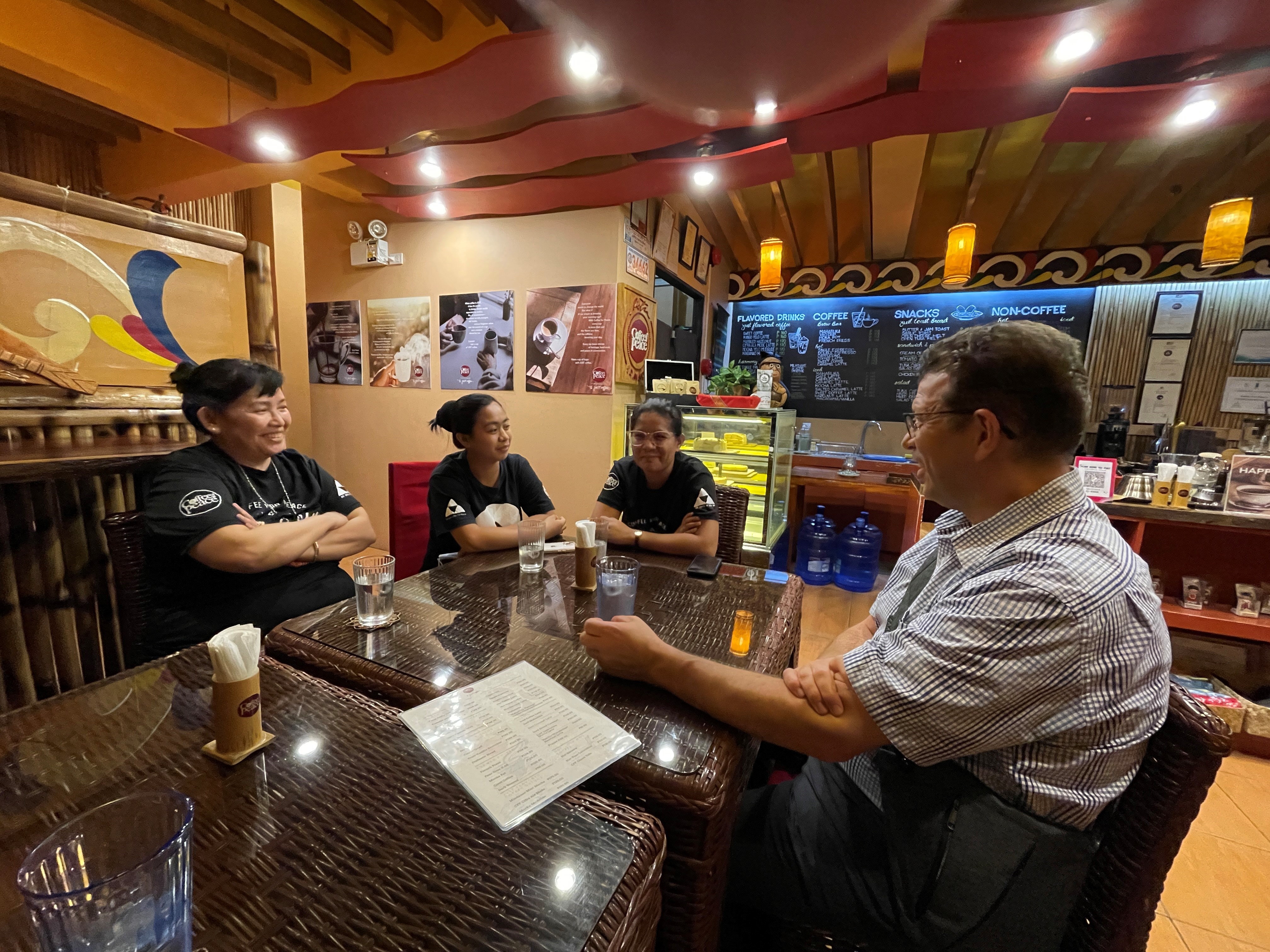 Joji Pantoja, CEO of Coffee for Peace, meets with Tala Bautista, Sihaya Ansibod, and Doug Klassen, executive minister of Mennonite Church Canada at the CFP coffee shop in Davao City – photo supplied
It's been seventeen years since Dann and Joji Pantoja's peacebuilding vision took hold in the violently conflicted island of Mindanao, Philippines.
Since then, the influential Peacebuilders Community Inc. (PBCI) has been established, as well as Coffee for Peace (CFP), which funds 75 per cent of PBCI's budget. In 2014, the significant Bangsamoro peace agreement was signed. More recently, a military colonel has asked for permission to use PBCI training manuals.
Much progress has been made. But much work remains.
The couple is preparing to hand off leadership of PBCI and CFP. The leaders-designate are being mentored into their new roles. If all goes well, the changeover will happen in 2026.
Prof. Joseph "Boyet" Ongkiko, currently vice-president of the PBCI's Board of Trustees, is board president-designate.
"In the week that followed Dann's invitation [to leadership] God seemed to affirm the call through his word, my readings and the current situation," said Ongkiko. He will focus on sustainability and establishing a permanent home for the PBCI School of Leadership. The board is hoping to raise CAN$235,000 for the Malipayon Peace Hub, which will share space with CFP operations. He also hopes to engage CFP growers in value-added coconut production to take advantage of a seasonal gap in coffee production.
Tala Bautista is in development as the future leader of CFP. She first experienced peacebuilding at age eleven. A warrior from an enemy tribe appeared in her village with a gunshot wound. A tribal war had been raging. The man, who had intermarried with someone from Tala's village, had his wound tended, was offered food and drink, and sent back to his tribe.
"I was confused! In the movies, the man would have been held hostage and used as leverage so that we can get what we want," Tala wrote in an email.
She questioned her elders, who told her it is spiritually wrong to kill a defenceless man on home territory. It is also wrong to harm someone who has fed you. "When he accepted our food, he could no longer be part of the war. That incident was a crucial moment for me in thinking about peace and peacebuilding."
Bautista has been drawn to a vocation in peacebuilding because Indigenous values are mirrored in the peace theology of PBCI and CFP. "As an indigenous person, I have always felt the exclusion in many spaces including in the discussions about the Bible and God. Our indigenous spirituality was labeled as demonic. I cannot connect that deep sense of exclusion with a loving God."
As future leader, Bautista wants CFP to model a sustainable alternative to extractive ways of doing business, and to "… fully support financially the peacebuilding work of PBCI and other peacebuilding initiatives."
This year, she will be making presentations at two global conferences on the theme of indigenization of social enterprises and its connection to peacebuilding. She is also excited to be shipping CFP's first coffee order to Switzerland. "I am hoping this is the start of the opening of the European market to CFP coffee."
Sihaya Ansibod has been designated as the future leader of PBCI. Ansibod has been its Director of Field Operations for five years. She holds a Bachelor of Science degree in Community Development from Southern Christian College, where she was also an active volunteer in peace and development programs. Her Indigenous roots are in the war zone area of North Cotabato, Mindanao.
She first joined PBCI in 2015 as an intern at its School of Peacebuilding Leadership. She was attracted to its "…bridge building work among people from diverse cultural and social backgrounds." She will carry forward PBCI's dream of establishing a Peace and Reconciliation (PAR) team in each of the Philippines 81 provinces. (As of August 2022, thirty-three PAR teams have been established or are in progress.)
A top priority for Ansibod is to invest in staff. "I strongly believe that investing in our staff is essential for the long-term success of the organization. With a committed and dedicated workforce, we can work towards achieving our goals and aspirations for our partner communities." Ansibod will continue to be mentored by Dann.
The young Indigenous women represent the next generation – and the future of peacebuilding on the ground in Mindanao. The transition to new leadership holds exciting prospects for the Pantojas.
Reflecting on her life since leaving Canada, Joji, CEO of Coffee for Peace, said, "I couldn't imagine having a summary of my life printed on my tombstone as: 'Spent her life managing rich people's money.' I want to be remembered as a person who walked with the people as they find dignity through sustainable economic development."
Dann recalls counsel from his father. "[He] often emphasized that 'without successors, there's no success.' I feel a sense of success whenever I see a well-equipped leader taking over an organization that I helped establish. To me, this is the measure of 'a good finisher' in leadership," said Dann.
A sign of the trust the Pantojas have gained in the region occurred in 2021, when the Bagobo Tagabawa Indigenous people bestowed honourary Indigenous titles on the couple: Joji became Bai Kasunayan (Lady of Peace), and Dann was given the title Datu Pugawang (Chief MindSetter).
The Pantojas were deeply moved. In a newsletter about the event, the couple wrote, "Most tribal councils are very careful in conferring membership and honorary titles to those from outside their community, especially to settlers like us. This practice of hospitality has been abused by many. We receive this sacred trust with much respect, deep gratitude, and utmost sense of responsibility."
The public ceremony took place at the foot of Mount Apo, the highest peak in the Philippine archipelago and the Ancestral Domain of the Bagobo Tagabawa people. The Pantojas will eventually retire on the lands of the "Indigenous peoples' community who adopted us," said Dann. "We will continue our work of justice-based peacebuilding and inclusive development with them. We will grow old with them. We will be buried among them."
***
Backgrounder
Dann and Joji Pantoja arrived on the island of Mindanao in 2006 with hope and a dream. Originally from the Philippines, where their three children were born, the Pantojas had been living in Canada for twenty years. Dann had been working variously as a pastor and director of global ministries for the Baptist General Conference of Canada. Joji enjoyed a successful career in the financial and investment industry.
Mindanao is the Philippines' largest southern island, boasting picturesque mountains, beaches, waterfalls, plateaus, and plains – all in a tropical climate. It's 27 million souls live in cities and remote rural regions and speak dozens of languages. Its steep mountainsides make road building and maintenance a never-ending challenge. Typhoons, volcanoes, floods, landslides, and earthquakes are ever present risks in this stunningly beautiful place. Despite its productive farmland, an estimated 35%-55% of the population lives in poverty.
The Pantojas grew up alongside the country's long history of Spanish-Catholic colonialism. Muslim-Christian conflict and fighting between the government and communist activists led to uprisings among Indigenous tribes. The violence pushed many of Indigenous peoples up into the hills where agriculture was difficult. Grinding poverty spurred people to react violently against the military and government.
The number of interwoven and overlapping groups, shifting loyalties, and conflicts was and is complex and difficult to understand for outsiders. As recently as 1989, the Rano massacre killed 39 people when a village decided to resist political pressures. The New People's Army claimed responsibility for the deaths but insisted that anti-communist vigilantes fired at them first.
As a young man, Dann had been a political activist opposing the martial rule of dictator Ferdinand Marcos, Sr. In Canada, he became an ardent student of Anabaptist peace theology, and studied ways of applying his knowledge to multi-layered conflicts in Mindanao. "The woundedness of my self-perception as a 'failed revolutionary,' and the healing process in my twenty years in Canada, would be my qualification to explore serving the Creator and our people again," said Dann.
Five decades of violent conflict among six major armed groups have displaced at least 2 million people in the Mindanao area. The hope and dream of the Pantojas was to help bring stability to the region.
The Pantojas spent their first two years making introductions, connecting people, and forming relationships with a revolving door of tribal elders, leaders of the various insurgent groups, and military commanders. In 2006, they formed the interfaith organization Peacebuilder's Community Inc. to share non-violent peace-building and social justice principles, working with the Bangsamoro peoples (mostly Muslim) and Settlers (mostly Christians). Locals began to take notice.
A parallel peacebuilding approach involved coffee. The mountainous regions of Mindanao offer an ideal climate for growing some of the world's most prized coffee beans. But inferior varieties and green, unprocessed coffee beans fetch the lowest prices in the marketplace.
Ongoing clashes among rival groups prevented the mostly Indigenous coffee growers from farming safely. With tensions ongoing for the long term, the military developed a permanent, hundred-acre operational base in the region without local consultation, elevating tensions. Conflicts over land and resources between migrant and Bangsamoro farming communities added fuel to the fires. Meanwhile, other insurgent groups kept up an armed struggle with the Philippine military, and pressured Indigenous villagers to take sides.
Coffee provided an inroad to a possible future for peace. In 2006, Dann and Joji facilitated an informal conflict mediation between certain migrant and Bangsamoro farming communities. The two groups were involved in an armed conflict for the ownership of several rice fields that were ready for harvest.
Instead of shooting each other, the leaders of the two parties were invited for a dialogue over coffee. Slowly, understanding between the rivals emerged, and the two communities avoided killing each other. Joji and Dann started inviting other surrounding communities to have coffee together – for peace.
The idea of coffee as a catalyst for peacebuilding took hold in Joji's mind and heart. Collaborating closely with local coffee producers, years of diligent work have improved coffee production, developed a growers' cooperative, and a value-added coffee processing operation that now sells dried and roasted coffee beans to corporate buyers at fair market prices. Under the brand "Coffee for Peace," growers – the majority are women – participate in a three-year program that trains farmers to produce high-quality, ecologically sustainable coffee while encouraging native and settler communities to work together on the coffee value chain.
The coffee has won taste awards at industry-wide cupping events. Joji has been featured in newspapers and magazines, winning awards for her justice-based approach to entrepreneurship, including one from United Nations Development Program. Local java fans in Davao City can enjoy a selection of the black beverage at her Coffee for Peace café. CFP is now sold domestically and to export markets, and has matured into a significant social enterprise comprising a community of peace builders, business owners, and farmers. CFP income funds seventy-five percent of PBCI's budget, thus forming a nearly enclosed loop of sustainable peacebuilding. Mennonite Church Canada funds twenty-five percent, but that funding is linked only to specific projects.
In 2011, PBCI laid out an ambitious plan to establish and train Peace and Reconciliation (PAR) Teams, with a goal of having 81 PAR teams by 2030 – one for every province in the country. PAR teams, comprising local leaders from church, government, business, and civil society are trained in the four pillars of peace that find common ground among the various people groups: harmony with our creator, harmony with our being, harmony with others, harmony with creation. As of August 2022, thirty-three teams have been established or are in progress. Some PAR teams have extended disaster relief aid in areas hard hit by typhoons and floods, earning recognition and credibility.
In 2014 the Bangsamoro peace agreement brought a measure of hope to the region. By 2018, the Moro Islamic Liberation Front exchanged its weapons for autonomous rule in the Bangsamoro region. PBCI walked with the people through the dangerous years of armed conflict. CFP was a direct outgrowth of the early conflict years.
A more recent breakthrough helped deepen the value of years of peacebuilding work when military Colonel Besana met with Dann in September 2022. A visiting delegation from Mennonite Church Canada, the Pantoja's sending agency, was present. The colonel expressed his thankfulness for inviting him, and especially for "the opportunity to share the peace advocacy and initiatives of the 10th Infantry Division" with PBCI. "That includes, of course, my personal vision and advocacy as well," he said.
Besana reminded Dann of an earlier request for a copy of PBCI's PAR Training materials to use for his personnel's training in justice-based peace and reconciliation programs. The visiting delegates experienced a moment of awe. Here was a military commander, highly trained in weaponry and troop deployment, seeking to learn more about peacebuilding grounded in Jesus' principles of non-violence.
PBCI has since established leadership training in non-violent peacebuilding and social enterprise development. Some graduates have moved on, applying what they've learned in other organizations. Coffee for Peace has given a voice to Indigenous people and helped them stand up for land rights in peaceful ways. Both PBCI and CFP have a special focus on women entrepreneurs. And a newer initiative, Produce Peace+, buys fruits and vegetables directly from farmers at justice-based prices for re-sale to sympathetic markets, mostly belonging to upper-middle class families. A big chunk of their net profit provides nutritious food relief for the urban poor.
-30-