September 28th, 2023

In Memoriam: Rod Suderman (1959-2023)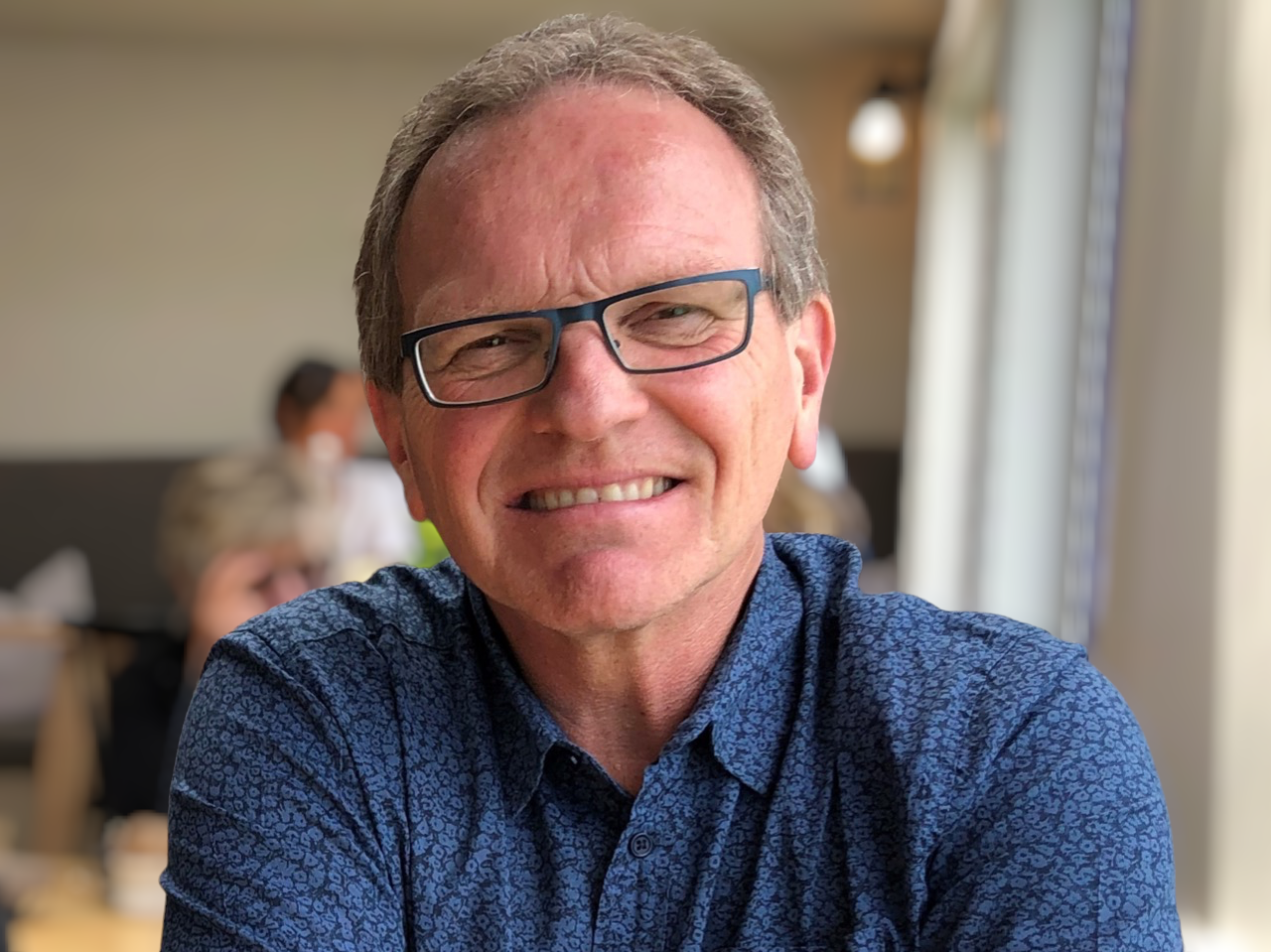 Winnipeg — Rod Suderman, former International Witness worker with Mennonite Church Canada, passed away on Sept. 2, 2023, of anaplastic thyroid cancer in Surrey, British Columbia. He was 63.
Born in Winkler, Man., Suderman aspired to a life of serving others. He studied theology and religion at Canadian Mennonite Bible College (now Canadian Mennonite University), the University of Winnipeg, University of Manitoba, and Associated Mennonite Biblical Seminary (now Anabaptist Mennonite Biblical Seminary).
Together with his wife Kathi, they served in Taiwan from 1985 – 88 with the Commission on Overseas Mission, a forerunner of MC Canada's International Witness program. From 1998 – 2006, the couple served as in-country program directors for China Educational Exchange (now Mennonite Partners in China), a partner ministry of MC Canada.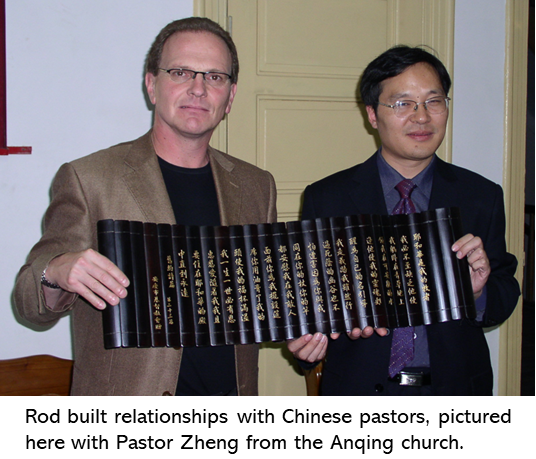 Having acquired significant experience, Rod and Kathi were appointed as regional representatives for Northeast Asia for Mennonite Central Committee in 2005, work he joyfully carried until they returned to Canada in 2014. Rod continued this work into 2015, returning to China several times. The couple raised their three children, Christopher, Stefanie, and Jesse in Beijing.
Rod's heart for ministry agreed with him, and many others. In between and after sojourns in Asia, he was pastor at Aberdeen Mennonite Church, Sask. (1992-98), First Mennonite Church, Saskatoon (2015-21) and Emmanuel Mennonite Church, Abbotsford (2022-23). He also made many connections at Congregation of the Good Shepherd (Beijing), Point Grey Inter-Mennonite Fellowship (Vancouver), and found a special community at Charleswood Mennonite Church (Winnipeg), where he was baptized in 1984.
Suderman's passion for life was matched only by his curiosity. He exercised his mind by pondering how others lived and experienced the world, and kept his body active by jogging. An avid reader, his wide-ranging interests included but were not limited to current events, history, theology, environmental issues, travel, astronomy, photography, peace and reconciliation —and perhaps most of all, food.
Jeanette Hanson, Director, International Witness for MC Canada, reflected, "Once when Rod was hosting rural church leaders in Beijing, he ordered food for them in a restaurant and said that he hoped they would enjoy it. They were confused. To them food was for sustenance. Rod often retold this story, noting that 'enjoying food' was a privilege."
Gordon Janzen, past director of MC Canada's Witness ministry for Asia, Europe & Middle East, recalled meeting Suderman in Aberdeen, Sask. just prior to the family's departure for China in 1998. "Rod was excited for this challenge, he said, 'because China is a happening place.'"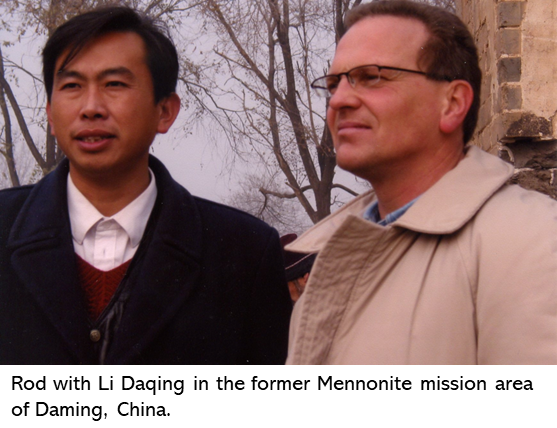 Suderman's work entailed much travel within Asia. He reconnected pastors who were remnants of past Mennonite mission in the remote areas of Daming and Puyang and who had lost contact with global Mennonites decades ago. He arrived in the dead of winter, visited the Bible school, slept at the church, and ate with local leaders.
Yin Hongtao, MC Canada representative in China, wrote, "Rod and I traveled together many times to rural areas… he consistently showed a patient, humble attitude and a loving heart to all. He embodied a very good example of what a cross cultural partnership can look like."
Suderman assisted Chinese leaders in their attempts to get church property returned by researching and locating historic property deeds. He also guided the government registration of North American church agencies through complex bureaucracies.
After the 2008 earthquake in Sichuan, Suderman worked with Duan Meihong on rebuilding projects. Duan called Suderman a good friend, elder and fellow traveler. "I miss walking the same road with him, with one purpose… These experiences with him have generated strength that has always supported me on the right path."
As part of his work with MCC, Suderman served as an advisor on the Steering Committee of NARPI (Northeast Asia Regional Peacebuilding Institute). Jae Young Lee, executive director, credited Suderman with helping NARPI move from vision to reality. "He kept the idea of NARPI in his mind and then helped make a way for it to come alive." Kyoko Okumoto, current Chair of the NARPI Steering Committee remembered Suderman as "… one of the parents of NARPI... he guided all of us with his wisdom and care."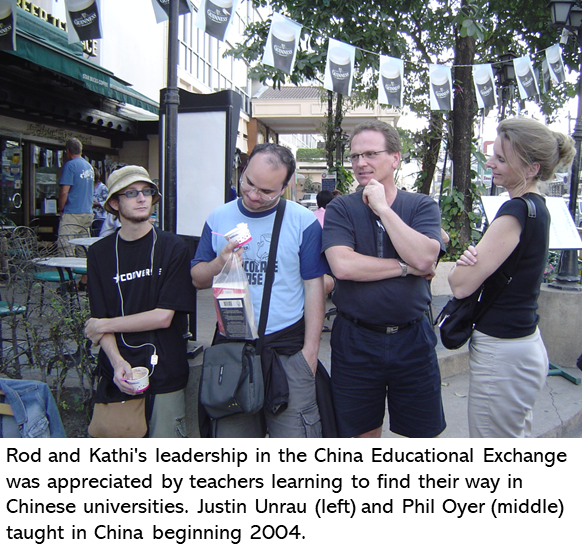 Using his pastoral background, Suderman brought leadership and support to teachers placed in China through MPC. During his time as program director the number of teachers in China peaked at forty, some of whom were placed in remote rural areas and found the isolation especially challenging.
Myrrl Byler was executive director during that time. He said, "Rod provided a safe listening ear for those who were struggling with living and teaching in China. He had a wonderful gift of letting people explore and experience things on their own, but then respond and help people understand what was happening and why."
A memorial service for Suderman was held on Sept. 16 at Emmanuel Mennonite Church in Abbotsford, British Columbia, where he was lead pastor.
-30-