October 16th, 2023

Pray for Peace from Bethlehem Bible College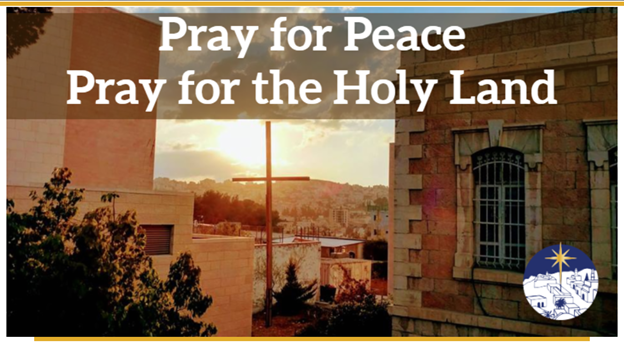 Dear Friends from around the globe,
Peace and grace to you all in the mighty name of the Prince of Peace, Jesus. This is our second letter from Bethlehem Bible College after passing a very difficult week as a people and as a country.
It has been 10 days since the Hamas attack and since Israel began to attack Gaza unleashing the worst ever attack on Gaza and its people. I am not sure if you know that Gaza is one of the smallest and most densely-packed cities in the world. The area around Gaza City is home to nearly 2 million people living in an 88-square-mile expanse, which is about 21,000 people per square mile. Anywhere Israel is going to bomb - even if they are not targeting civilians - hundreds of civilians will die in collateral damage. Innocent people will die - men, women, and children. Houses will be demolished and the infrastructure will collapse.
Also, the situation in the West Bank is at the brink of collapsing. The Israeli army has shut all the entrances and exits in and out of the West Bank for the past week. They have separated most of the Palestinian cities from each other and have limited movement in Jerusalem for the Palestinians.
As people who cannot and will not justify war or any act of aggression, we know that there are no winners in war, everyone is a loser. The repercussions of war are long-term, at all levels. The trauma that will never end will require an army of psychologists and counselors to even scratch the surface of the wounds that will remain.
We beseech Christians to have an even heart toward all the people here, to feel for the people the same way, and to sympathize and empathize in a similar fashion. We model God's heart who has no favoritism, nor does He rejoice in the death of humans. We understand that death and destruction are of the evil one as our Lord Jesus Christ taught us in John 10:10, "The thief comes only to steal and kill and destroy; I have come that they may have life, and have it to the full."
We know that we are not politicians, and we are not the richest people on earth to be able to help people with building new houses or building hospitals. But, we know we have a Father who cares for His creation, who cares for every human being who was created in His image. The people facing war now are people who are created in God's image, and He does love them and care for them.
We want to be ready to help and support these families once there is an opening, but meanwhile, we can continue to pray:
For the leaders: wisdom, compassion, and patience.
Comfort for those who have lost their loved ones. By now, more than 2,500 lives have been lost in the Gaza Strip alone, including hundreds of children and women.
For fast recovery for the injured, by now this number is over 10,000 wounded people.
Pray for the safety and resilience of the West Bank, for their wellbeing, and also pray that the economy does not collapse.
Pray for Bethlehem, which survives on tourism and the connection with Jerusalem. Without that, we will soon have an economic crisis, also.
Pray for Bethlehem Bible College, to be a beacon of hope in such hard and dim days like these.
Pray for the churches in Gaza that became refuge houses for many people.
Friends, please proclaim peace over our country:
"Look, there on the mountains, the feet of one who brings good news, who proclaims peace!" Nahum 1:15
Rev. Dr. Jack Sara
President of Bethlehem Bible College