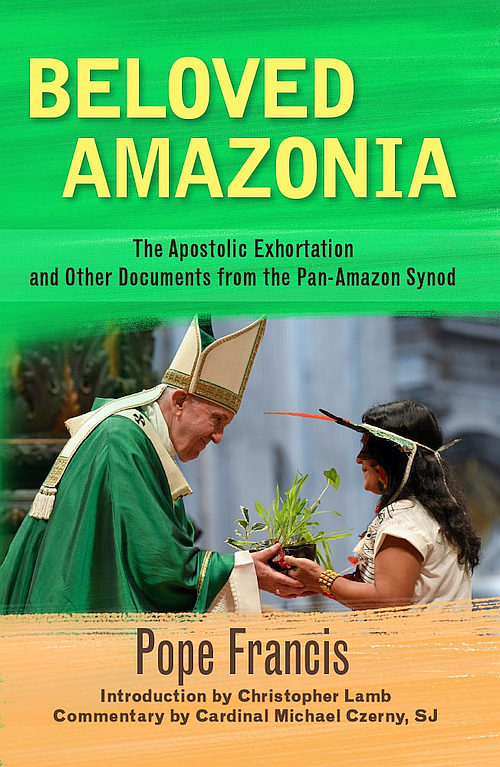 Beloved Amazonia: an online bookclub
Exploring the Church's relationship to Indigenous peoples, spiritualities and land
For the Church, the defense of life, community, land, and Indigenous peoples' rights is an evangelical principle, a defense of human dignity: "I came so that they might have life and have it more abundantly" (John 10:10).
—Final Document of the Pan-Amazon Synod
In 2015, the Truth and Reconciliation Commission called all faith groups in Canada to a new relationship, inviting us to
adopt Indigenous rights standards (Call to Action 48),
respect Indigenous spiritualities (Call to Action 60), and
repudiate legal fictions that deny Indigenous peoples' rights to their lands (Call to Action 49).
It was, with no exaggeration, a summons to radical conversion. But we are not alone if we decide to follow this call. Some in the church have listened deeply to "the cries of the poor… and the cries of the earth"—they can point us in faithful directions. Some are here in Canada. And many come from lands far away, like the Amazon.
In the fall of 2019, Indigenous representatives from the Amazon, together with church leaders, missionaries and scientists, gathered in Rome for the Pan-Amazon Synod. Carrying the wisdom cultivated from consultations with more than 80,000 people, the result was a profound set of documents that speak to the Church's relationship to Indigenous peoples and Mother Earth; documents that chart a new path for the church toward an integral ecology. One year later, Pope Francis presented the Final Document of the Pan-Amazon Synod, and invited the global Christian community to learn from its' deep insights and challenge.
Beloved Amazonia is a remarkable text that shares the work of the Pan-Amazon Synod. It is a text that, if made flesh in Canada, could revolutionize the Church's relationship to Indigenous peoples, Indigenous spiritualities, and Indigenous lands.
Mennonite Church Canada invites you to join Steve Heinrichs (director of Indigenous-Settler Relations) for an online book club this April as we explore Beloved Amazonia. Beginning April 8, we'll gather by Zoom each Thursday at 1:30 p.m. (CDT) for five weeks of circle conversation, sharing with each other our hearts and hopes, our questions and learnings. Together, we will dream new paths for the Church in these lands now called Canada. Together, we will consider what roles we can play to help make this gospel dream a reality.