January 18th, 2022

Call to prayer for Burkina Faso
Church leaders ask for prayer as country faces instability, violence, change in government
FOR IMMEDIATE RELEASE
Pastor Calixte Bananzaro preaches in Ouagadougou. (Photo courtesy: Tany Warkentin.)
The Evangelical Mennonite Church of Burkina Faso (Mennonite Church Canada's sibling church through Africa Inter-Mennonite Mission) is calling Mennonite Church Canada to pray for security and peace in their country.
Violence in Burkina Faso has escalated since 2016, as terrorist attacks wreak havoc in many of the northern and eastern areas, killing as many as 2,000 and displacing 1.5 million people from their homes.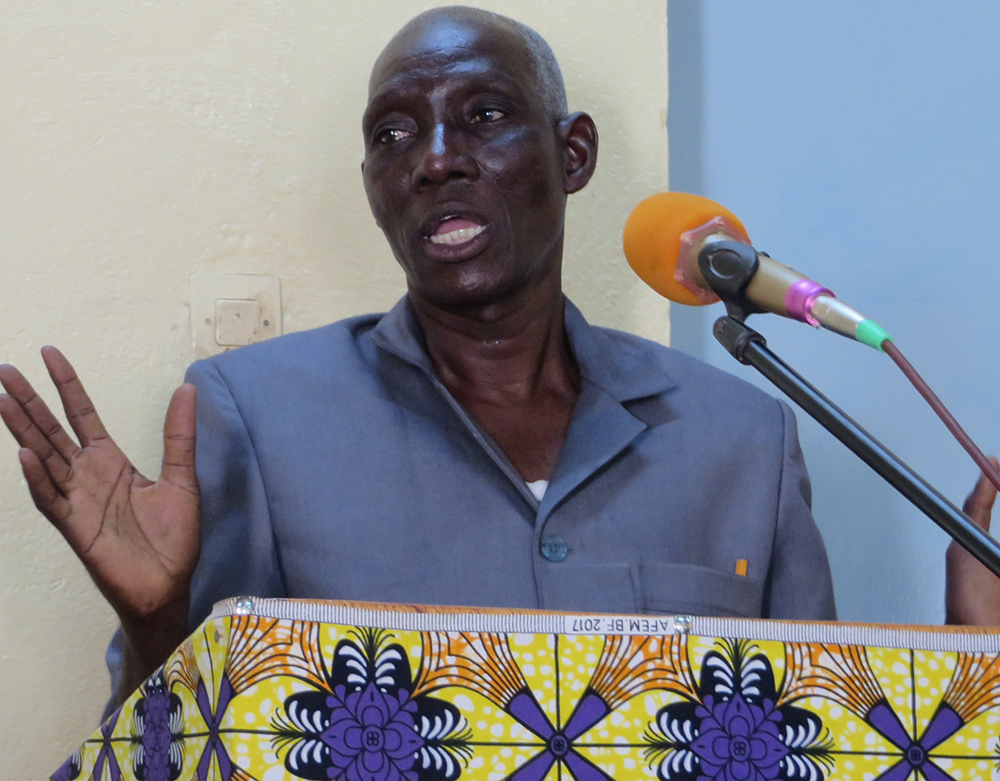 Calixte Bananzaro, pastor of the Mennonite Church in Ouagadougou and president of the Evangelical Mennonite Church of Burkina Faso, sends the following message:
"Here in Burkina Faso, we continue to thank God, who sustains us and allows us to live out our faith despite the challenges. Regarding the security situation, we thank God that everyone is now taking things seriously. Currently, the police are no longer waiting to be attacked. They are maintaining a presence in areas that had been taken by the jihadists, to encourage the displaced people to return to their homes, and to protect them.
At this point, the largest concerns are the displaced, who are not adequately fed, the missed education of children in areas where schools are closed and general food shortages. There are areas where there has not been enough rain and the crops are very poor. In other areas, people needed to flee before they were able to harvest their crops. Most recently, the jihadists set fire to the granaries of those who had fled their homes."
In December, Burkina Faso experienced major political turmoil after the President Roch Marc Christian Kaboré fired Prime Minister Christophe Dabire, which necessitated the resignation of the entire cabinet. The population has been calling for change, many wanting a "fighting government" to deal with the increasing terrorist attacks.
While no Mennonite churches in Burkina Faso have been directly affected by the violence, many have relatives and neighbouring communities who have been. Mennonite churches have responded by welcoming relatives that have fled their homes, providing them with lodging and food. In some areas, Mennonite churches are providing support for displaced children to attend schools and access basic living supplies.
Lassina Traoré, president of the Ouagadougou Mennonite Church's leadership committee writes, "We have abstained from fully celebrating Christmas and New Year's, while praying for our brothers and sisters who are displaced, injured or in mourning because of this imposed war. Please pray that God will point us in the right direction so that we can express our love for these people going through difficult times following the terrorist attacks. We remain grateful to all who support us in prayer."
Tany Warkentin, liaison to ministry in Africa for International Witness, says that the Mennonite Church in Burkina Faso is known for their peace-building capacities. They are also active in building trust and relationship with Muslim neighbours.
"These terrorist attacks are made on all religious groups alike, so it is inspiring to see Muslims and Christians coming together as a result of this crisis," she says.
COVID-19 has not been a great threat in Burkina Faso compared to these security issues, so there has been little interest among the general population to receive the available vaccinations. But the number of COVID-19 cases has recently increased, adding another dimension of concern in the country.
Please pray for restored peace and stability in Burkina Faso, and wisdom for the president in choosing a new government to lead and create stability at this time.
-30-
Media contact:
Liason for Ministry in Africa