October 12th, 2022

MC Canada Witness and PIN networks co-host speaking tours by Bethlehem Bible College
Tours hosted in Canada in partnership with seminaries and colleges across country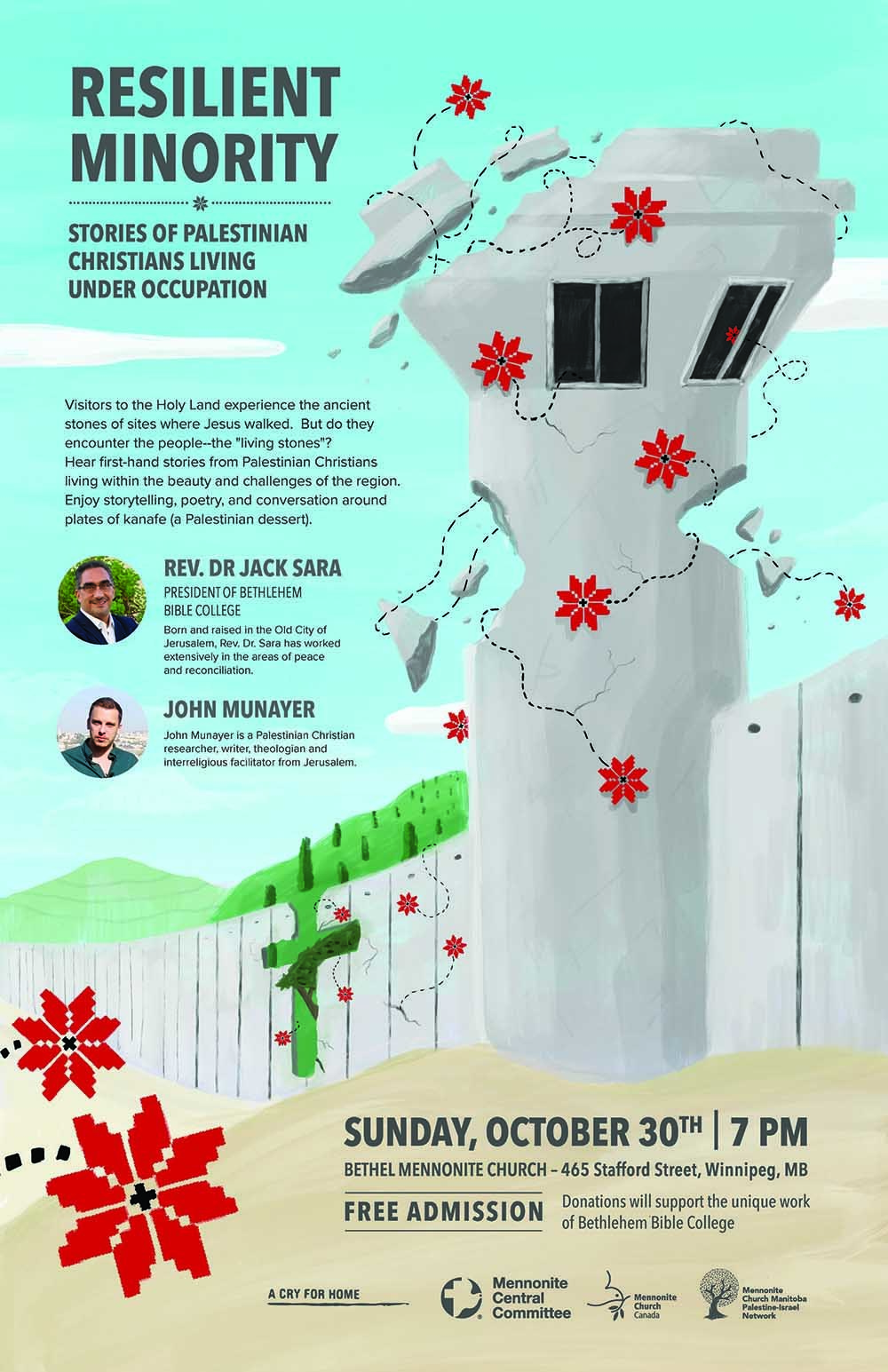 MC Canada Witness, together with Palestine Israel Networks from four regional churches and eight theological schools and seminaries across Canada, is hosting four speaking tours by Bethlehem Bible College (BethBC) over the coming year.
"It is remarkable to see colleges and churches from different parts of Canada and different denominations come together to hear our Palestinian siblings' voices, to learn about life from their perspective and to challenge some of our beliefs about living in their part of the world," says Jeanette Hanson, director of International Witness.
Located in Bethlehem, in the West Bank of Palestine, and offering studies in Nazareth and Gaza, BethBC exists to train people to serve Christ in the world, advocate a Palestinian Christian perspective and model Christ through community development. The College also serves local and other Arabic-speaking congregations in the region.
BethBC's president Rev. Dr. Jack Sara will give lectures during each of the tours, along with other faculty members, at schools, churches, at formal and informal gatherings.
The first tour is in Manitoba, featurng a lecture in Winnipeg at Bethel Mennonite Church on Sunday, Oct. 30, at 7 p.m. The event is titled "Resilient Minority" and is hosted by MC Canada Witness, Mennonite Church Manitoba's Palestine Israel Network, Canadian Mennonite University and Providence University College and Theological Seminary.
BethBC instructor John Munayer will join Dr. Sara to share on the topic of 'living stones,' and how Palestinian Christians serve God within the beauty and challenges of the region. Plans for the evening also include, storytelling, poetry and conversation around plates of kanafe, a Palestinan dessert.
The next three tours will be held in the following regions in Canada over the next year: Alberta in January, Ontario in March and B.C. in the fall of 2023.
Other participating colleges and schools include Ambrose University, The King's University, Columbia Bible College, Regent College, Vancouver School of Theology and Conrad Grebel University College.
Palestine Israel Networks (PINs) from Mennonite Church Alberta, Mennonite Church British Columbia, Mennonite Church Manitoba and Mennonite Church Eastern Canada are co-hosting each tour.
Donations to support the lecture tour can be made to Bethlehem Bible College at www.mennonitechurch.ca/pin. Donations received in excess of expenses will be given to Bethlehem Bible College for ongoing ministry in Palestine.
-30-
Media contact