Regina conference brings together Indigenous and non-Indigenous Christians
November 15, 2019 | By Katie Doke Sawatzky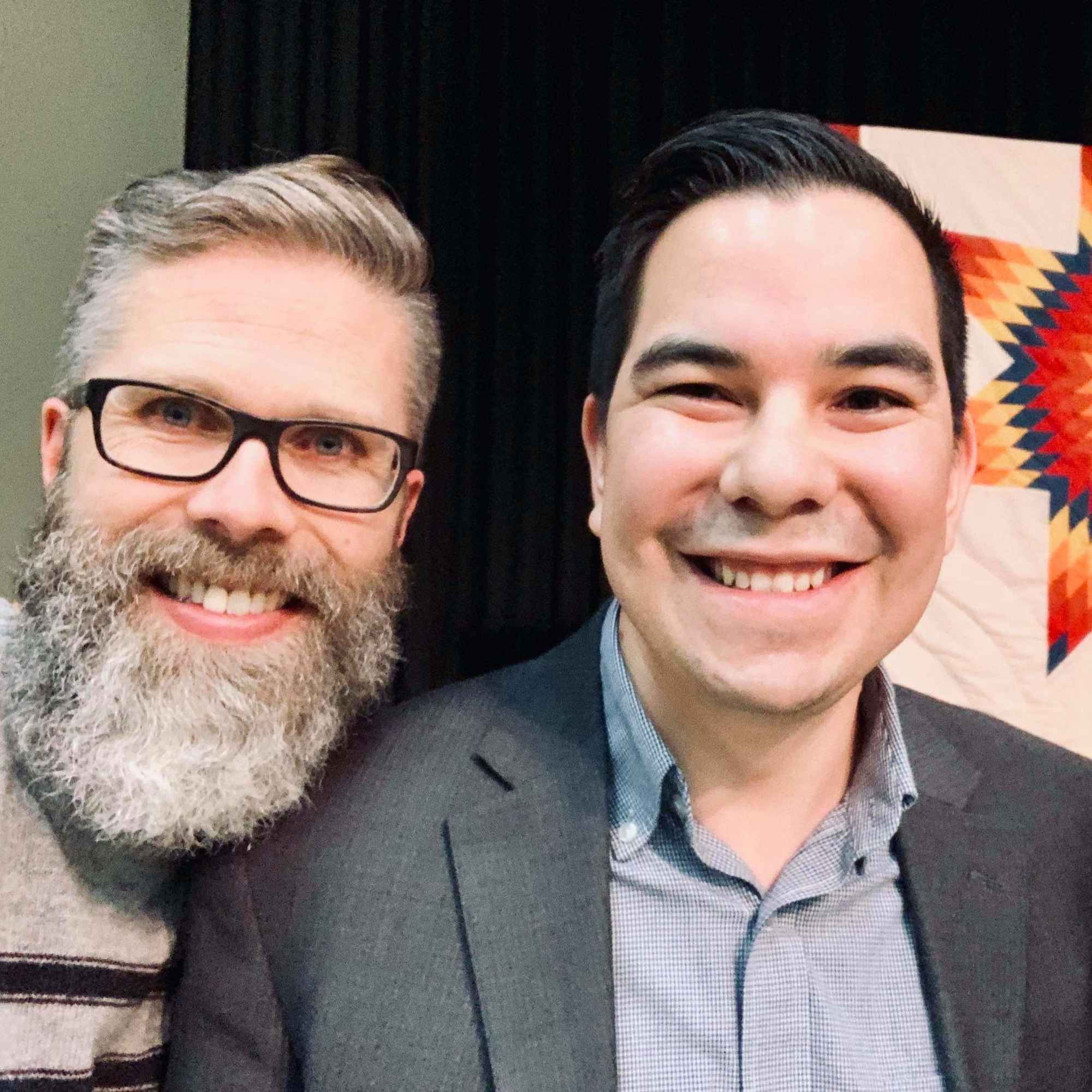 Steve Heinrichs and James Thunder. Thunder was conference Emcee. He is Treaty 9 Oji-Cree from Sachigo Lake in northwestern Ontario. He currently works on a project looking at the synergies between Indigenous cultures in urban Winnipeg and the cooperative model of business enterprise.
The object of the conference is to have people come together "to understand the Jesus Way in the context of Indigenous culture" and to acquaint folks with the Truth and Reconciliation Commission's Calls to Action. Reverend Ray Alfred, director of the Indigenous Studies Program at Vancouver School of Theology, was the keynote speaker. He addressed the possibility of Jesus making peace between peoples, especially between Indigenous Christians and settler Christians.
Five workshop presenters spoke on topics ranging from Indigenous Christology, settler identity, the role of allies and advocates in reconciliation and rethinking culture and faith in the context of Indigenous Christianity.
We call upon leaders of the church parties to the Settlement Agreement and all other faiths, in collaboration with Indigenous spiritual leaders, Survivors, schools of theology, seminaries, and other religious training centres, to develop and teach curriculum for all student clergy, and all clergy and staff who work in Aboriginal communities, on the need to respect Indigenous spirituality in its own right, the history and legacy of residential schools and the roles of the church parties in that system, the history and legacy of religious conflict in Aboriginal families and communities, and the responsibility that churches have to mitigate such conflicts and prevent spiritual violence. (TRC: Calls to Action, 2015, p.7)
Heinrichs's workshop was about the importance of settler identity in reconciliation work, which works against settler colonialism."The dispossession of Indigenous Peoples' lands for the well-being of settler society is what settler colonialism is all about," he said. "It does this by erasing Indigenous identity, jurisdiction and power. Settler Christians need to work against that by supporting Indigenous rights to land, life and well-being. Fundamentally, it's about Jubilee – the return of enough land for Indigenous peoples to not only survive, but thrive."
Those attending the conference came from a range of backgrounds. Sitting around one of the tables in the church gymnasium were an employee for Regina Youth For Christ, a national Christian youth-services ministry with local chapters; an employee from Ranch Erlo, a Saskatchewan organization offering services and residential care to at-risk youth and young adults; and an education student studying at First Nations University of Canada, which is located in Regina.
Jasmine, a student teacher, is navigating the challenge of teaching Indigenous values in a colonial education system. "We're supposed to keep in mind the four elements of well-being: spiritual, emotional, mental and physical," she said. "But it's hard for it to not seem 'token.'"
Jasmine said she found Terry LeBlanc's workshop on rethinking culture and faith helpful.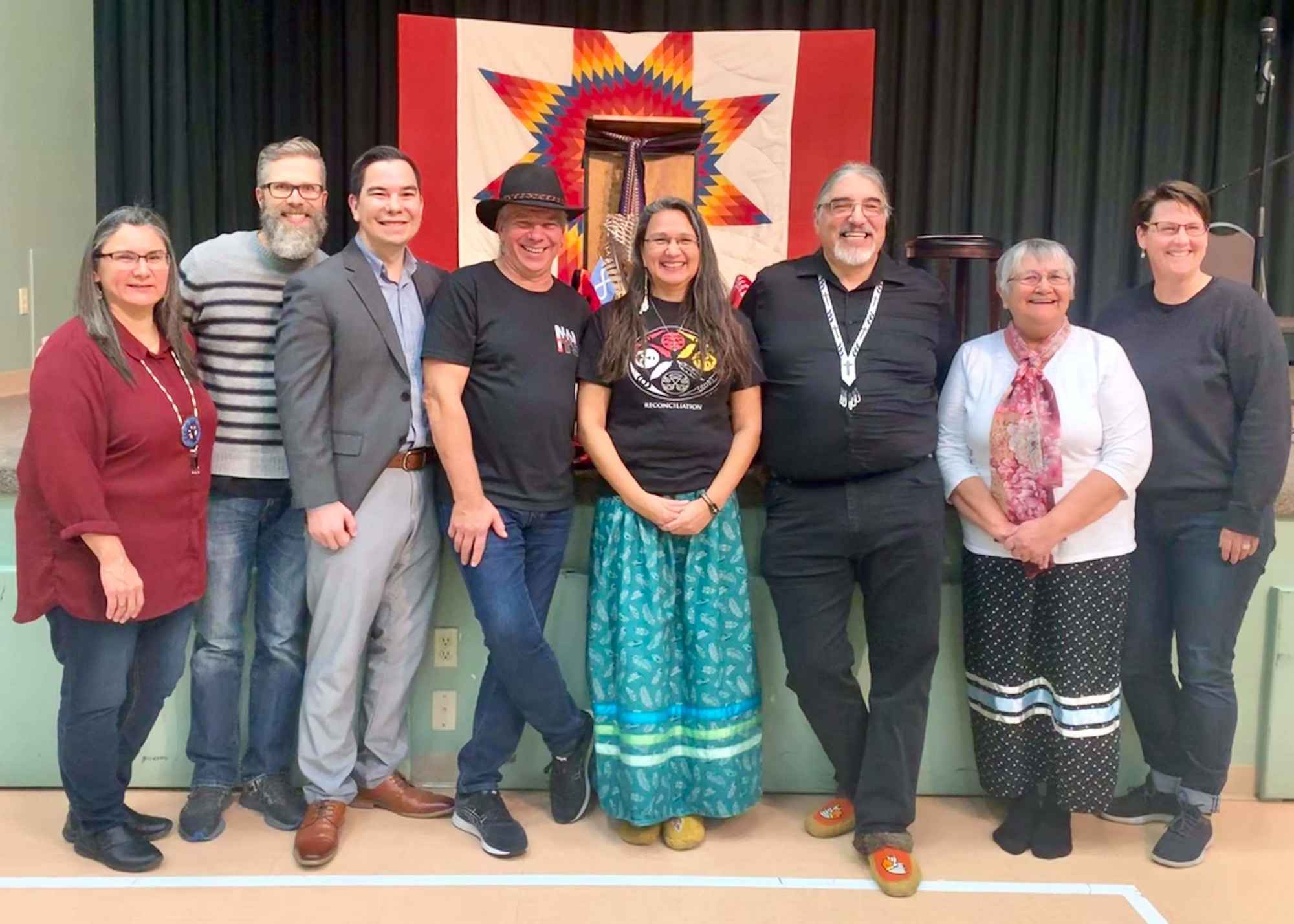 From left to right: Shari Russell (Anishinaabe/Saulteaux from Yellow Quill First Nation); Mennonite Church Canada Indigenous-Settler Relations director Steve Heinrichs; emcee James Thunder (Oji-Cree from Sachigo Lake First Nation); Terry LeBlanc (Mi'kmaq/Acadian); Diane Campeau (Anishinaabe) conference organizer with iEmergence; Ray Aldred (Treaty 9 Cree from Swan River Band); Chantel Bobst (Peepeekisis Cree Nation); and Jodi Spargur from Healing at the Wounding Place based out of Grandview Calvary Baptist Church in Calgary.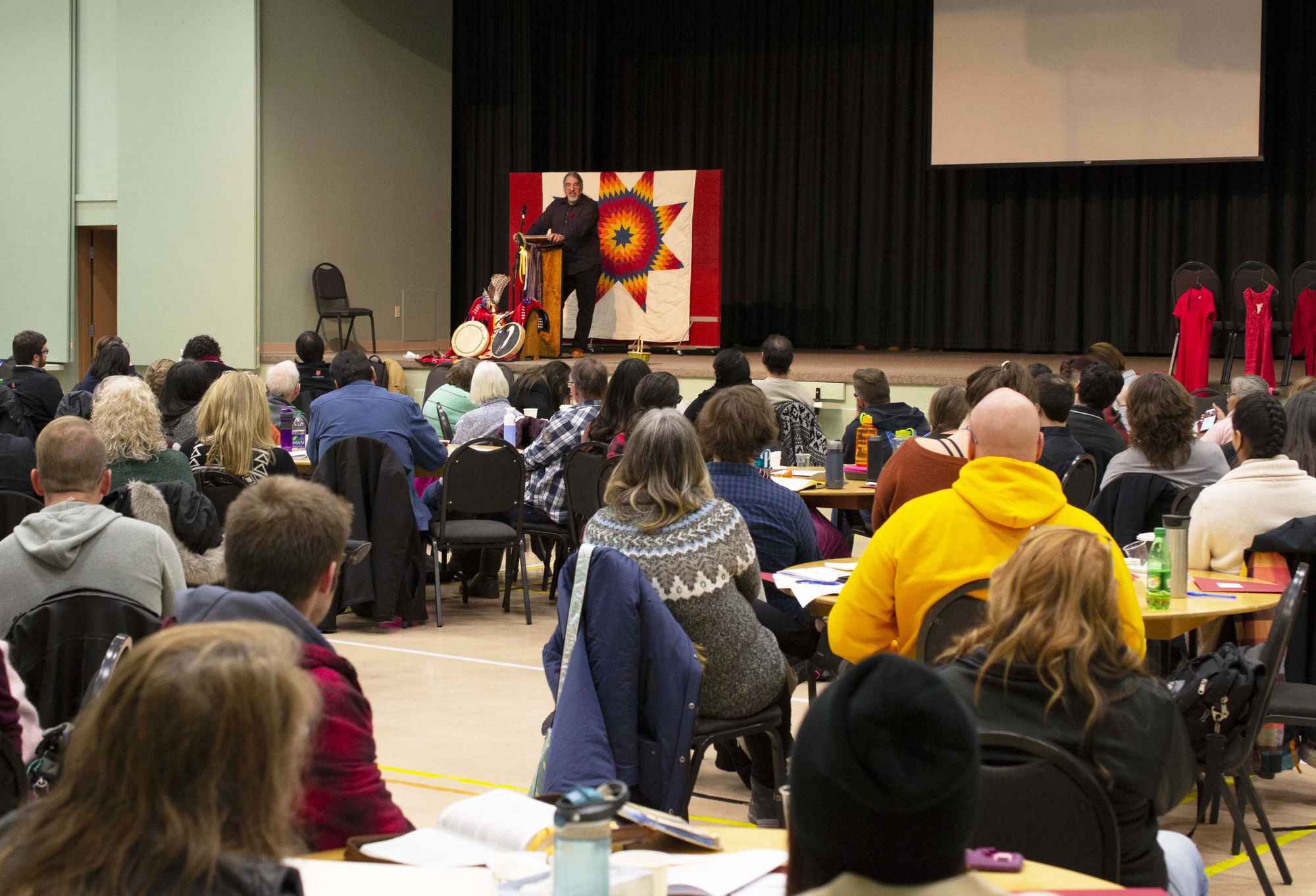 Ray Aldred, director of the Indigenous Studies Program at Vancouver School of Theology, was the keynote speaker. The conference was held in the gymnasium of Living Hope Alliance Church in Regina, Sask.
LeBlanc is Mi-kmaq Acadian and the founding chair and current director of NAIITS: An Indigenous Learning Community. In his second workshop on the first day of the conference, LeBlanc invited a room of around 30 people to reconsider the Protestant church's focus on the fall in Genesis 3 and the problem of sin. He argued that if this focus is the starting point for our faith journey, we tend to embrace a "deficit-based theology" or a centering around what is wrong and must be fixed. Instead, LeBlanc suggested starting with the harmony of creation outlined in Genesis 1 and 2. Focusing on what people hold in common with God is more helpful in reconciliation work between churches and Indigenous people, he argued.
"When we were in a good way together, what did that look like?" he asked the group. "What was the thought and intent of God (in Genesis)?"
Heinrichs was encouraged by the learning going on at the conference.
"Many were talking about genuinely trying to respect Indigenous people by following their express concerns and priorities – which is profound for churches, especially non-Indigenous communities," he said. "We settlers often think we know what's best. But more are learning. We need to follow the lead of suffering peoples."