Celebrate International Witness this October with our nationwide community of faith
Mennonite Church Canada invites congregations across our nationwide community of faith to celebrate International Witness by participating in a special service on October 24, 2021. This webpage provides worship resources, ideas for promotion, video resources including sermons for your messages, and information on joining Witness Support Networks.
This year the resources focus on Mennonite Church Canada's "Vision: Healing and Hope" statement:
God calls us to be followers of Jesus Christ and,
by the power of the Holy Spirit to grow
as communities of grace, joy and peace
so that God's healing and hope
flow through us to the world.
See how this vision comes alive in the lives and ministries of your siblings in faith around the world and in the Witness workers that you support.
Listen to God's call as you are invited to be part of these exciting ministries.
Experience God's healing and hope through stories of faith from around the world.
May God's Spirit empower and bless you to grow as communities of grace, joy and peace together with your global community of faith.
May you be richly blessed as you give and learn.
If you have questions about International Witness Sunday, you can contact your regional church or Jeanette Hanson, director of International Witness, at jhanson@mennonitechurch.ca.
IW Sunday PDF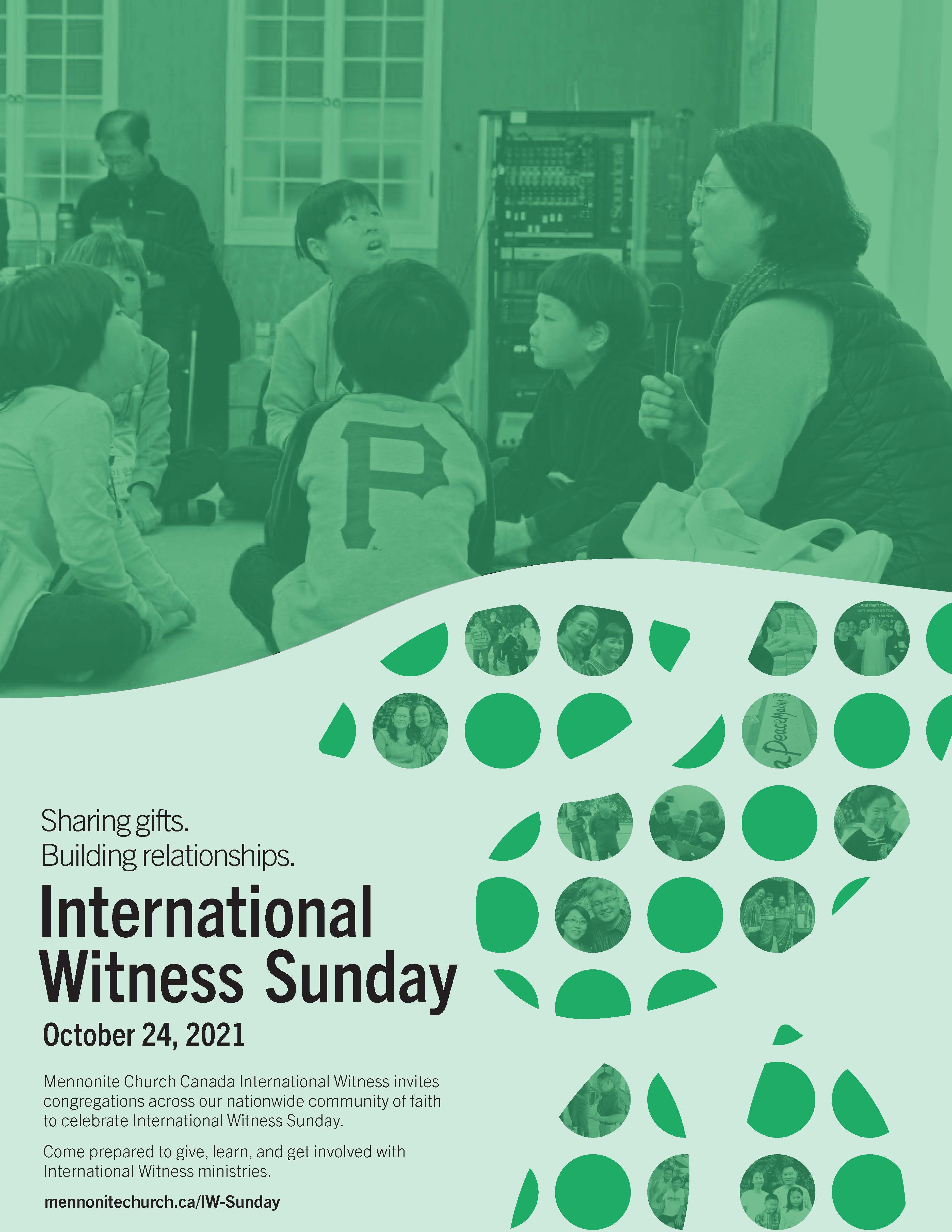 Find all the resources you need in one place! This document contains general information about International Witness, suggested hymns, prayers and scriptural texts for your congregation's worship service, information about Witness Support Networks and profile infosheets on our Witness workers.
VIDEO RESOURCES
Shorter videos that introduce you to our ministries and ministry partners.
"Being Sent"
"Myanmar - Inspiring a Gospel of Peace"
"Intro to International Witness ministries"
"God's path to new creation through reconciliation"
"What God is doing in Burkina Faso"
"Africa Inter-Mennonite Mission: Building a Global Family of Faith"
"Dedication of the Bagobo Tagabawa Peace Memorial and Hall" - PeaceBuilders Community, Inc.
Videos to use for messages

"God Calls Us" sermon by Jeanette Hanson, director of International Witness for Mennonite Church Canada
"New creation," in collaboration with Bock Ki Kim and Sook Kyoung Park
"Being Sent," in collaboration with Tom and and Christine Poovong
Extend your hands across the table to learn
from brothers and sisters around the world.