January 5th, 2021

Mennonite Church Canada International Witness invites Canadian Mennonite congregations to participate in Witness Support Networks
Thirty-five congregations already form five networks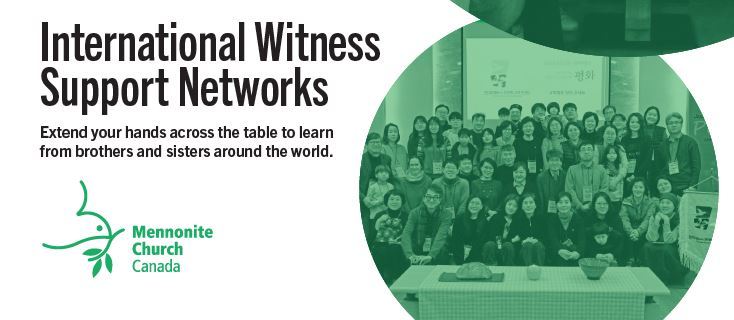 Mennonite Church Canada's International Witness program invites congregations across its nationwide community of faith to join networks of support for Mennonite Church Canada's International Witness ministries.
"Being part of the network for the Philippines reminds us that we are part of something much bigger than ourselves. We see the work that is being done in the name of God's kingdom," said Marlene Friesen from Emmanuel Mennonite Church in Abbotsford, B.C.
International Witness works with 18 ministry partners in 13 countries around the globe and has eight Witness workers in four countries. Witness Support Networks are a new way for Canadian congregations to support and participate in this work.
"In these networks congregations can connect more deeply to at least one of those ministries," said Jeanette Hanson, director of International Witness.
These are currently five networks. Each network contains four partners:
congregations who wish to support the same ministry
regional churches
Mennonite Church Canada
and Witness workers.
Four of the networks support ministry in countries where there are Witness workers: China, Philippines, South Korea and Thailand. The fifth network supports ministry in Burkina Faso. The goal of the networks is mutual sharing, learning and giving through relationships.
Each congregation determines how to contribute to their network. Distributing newsletters, organizing fundraisers, connecting with international partners (online or through visits/learning tours) and sharing prayer requests are examples of support congregations can give.
"As part of the Thailand network, it has been a real blessing to be part of Zoom meetings with the Poovongs and hear firsthand what they are doing," said Sharon Schultz, pastor of Eyebrow Mennonite Church in Eyebrow, Sask.
Hanson says another benefit of the networks is that congregations across Canada will connect with each other through their support of international ministry.
"The opportunities for learning and sharing are endless," she said.
Congregations interested in joining a Witness Support Network can contact their regional church representatives:
Visit mennonitechurch.ca/witness-support-networks for information and resources.
-30-
Media contact:
Director of International Witness