August 25th, 2021

Mennonite Church Canada announces theme for Gathering 2022 in Edmonton
We Declare will take place July 29 to August 1, 2022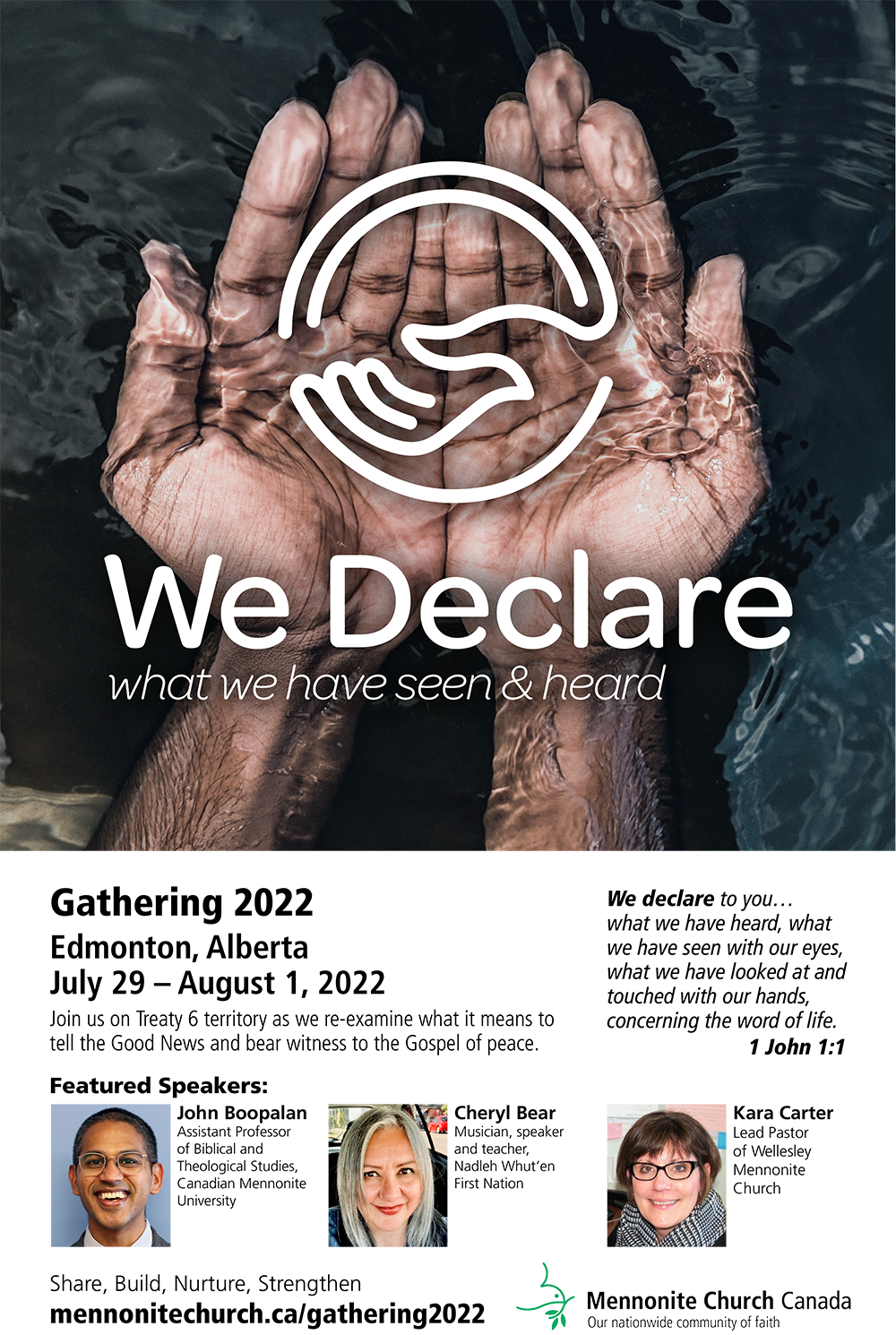 Mennonite Church Canada is pleased to announce the title and theme for Gathering 2022 in Edmonton, an event for our nationwide community of faith.
Co-hosted with Mennonite Church Alberta, We Declare: What We Have Seen and Heard will be an opportunity for members of the nationwide church to re-examine what it means to tell the Good News and to share and hear stories of bearing witness to the Gospel of peace.
"Across Mennonite Church Canada, the idea of sharing the Good News elicits strong reactions, from 'I owe my life to the person who invited me to faith in Jesus' to 'I can hardly say the word 'evangelism'" says Doug Klassen, executive minister for Mennonite Church Canada.
"We need to have a nationwide conversation about communicating our faith, and to nurture each other in how we bear witness to the Gospel of peace in tumultuous places and times."
The event will take place at Holiday Inn Edmonton South, kicking off on Friday evening, July 29, and ending midday on Monday, August 1.
Three guest speakers will engage the theme of witness and evangelism throughout the weekend:
Dr. John Boopalan, Assistant Professor of Biblical and Theological Studies
Musician, speaker and teacher Cheryl Bear from Nadleh Whut'en First Nation
Kara Carter, Lead Pastor of Wellesley Mennonite Church
Amplify: Giving Voice to What We Have Seen and Heard is the theme for Youth Gathering 2022 at Camp Valaqua from July 31 to August 4, 2022.
"I am looking forward to having youth gather together under the trees to share stories and amplify their voices as part of the larger nationwide gathering," says Joani Neufeldt, event coordinator for Amplify.
There will also be programming for a Young Leaders Experience, ages 16 to 20, at Gathering 2022 in Edmonton. Information about all youth programming is forthcoming.
Information about Gathering 2022 will be regularly updated at mennonitechurch.ca/gathering2022 and mennonitechurch.ca/amplify.
-30-
Media contact:
Katie Doke Sawatzky
Communications Coordinator