March 31st, 2023

Tribute: Carl Epp
Dr. Carl Epp, November 30, 1930 - March 6, 2023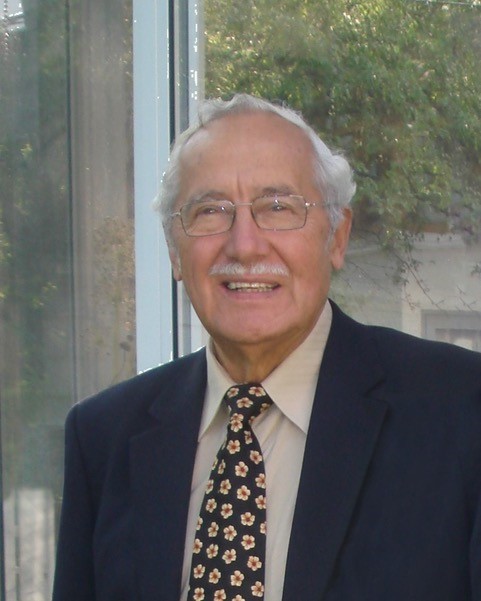 Winnipeg – Dr. Carl Epp, who served the Mennonite Christian Hospital in Taiwan from 1972 – 1991, passed away in Winnipeg on Mar. 6, 2023.
Born in Eigneheim, Sask., on Nov. 30, 1929, his first career was teaching in a one-room school in Lac Cheval, Sask.
His longer term goal was to become a missionary doctor. While awaiting acceptance into medical school, he attended Canadian Mennonite Bible College (now Canadian Mennonite University) in Winnipeg, where he met his wife, Hilda Schroeder. They married in 1961.
Epp practiced medicine in Kindersley, Sask., followed by two years of internal medicine training in Winnipeg. In 1972, he accepted a position at the Mennonite Christian Hospital (MCH) in the city of Hualien, and the couple moved to Taiwan with their four children.
The MCH traces its roots to 1948, when Mennonites were invited by the Presbyterian Church in Taiwan to start a clinic that would also tour the countryside. The hospital was built in 1954. At MCH, Epp founded the internal medicine department and oversaw training programs for medical students, interns, and residents – all while learning the local language.
By the time he left Taiwan, the hospital was fully staffed and run by Taiwanese health care professionals. This achievement and the deep faith that continues to inform MCH's approach to care was a source of joy for Carl. He later served as a member on its board of directors.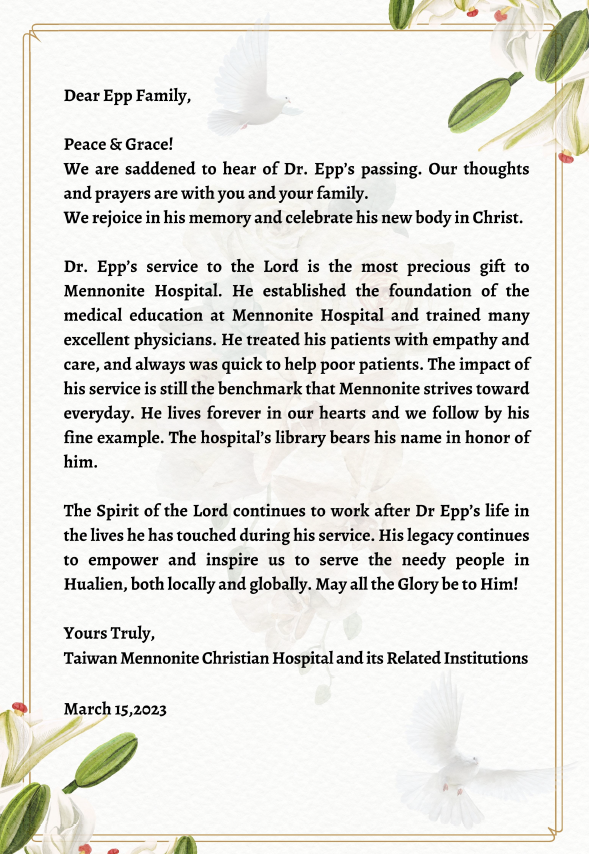 He received numerous awards for his contributions, including official recognition from Taiwan's president in 1996. After MCH completed a major renovation in 2003, Epp was invited to attend the dedication of the hospital's new Carl Epp Library. News of Epp's passing prompted a tribute video from MCH.
Tobia Veith, International Witness worker in Hong Kong, Macau and mainland China from 1991-2021 became friends with the Epp family when her parents served in Hualien in the mid-1970s. Veith simply knew the couple as Uncle Carl and Auntie Hilda. Veith recalled Epp as a "… a dear man who did justice, loved mercy and walked humbly with God. Although a busy doctor at MCH, he took time to notice, interact and laugh with us kids, and that lasted for a lifetime!"
Epp returned to Winnipeg and practiced medicine there until his retirement in 2001. Following Hilda's death in 1995, he entered a new phase of life when he married Madeleine Enns in 1999. The couple travelled across Canada and the world to see children and grandchildren. He enjoyed nature, and planted ancient grains among his flower beds at home, grew orchids, and researched family genealogies. He made many trips back to Eigenheim to help his farming brother Oscar take in the harvest.
Epp served in various capacities at Fort Garry Mennonite Fellowship, and sang in choirs. His first hour of the day included reading several hymn texts and Bible passages, alternating between his well-worn Bibles in English, German, Chinese, and Low German.
A Celebration of Life took place on March 18 at Fort Garry Mennonite Fellowship in Winnipeg. Donations in Epp's memory can be made to Mennonite Church Canada International Witness.
-30-